Pigeons on the Grass Alas
The following is an excerpt from Pigeons on the Grass Alas: Contemporary Curators Talk about the Field, a publication of the Pew Charitable Trusts.
Pigeon Fancier  Ingrid, what about you — for whom do you curate?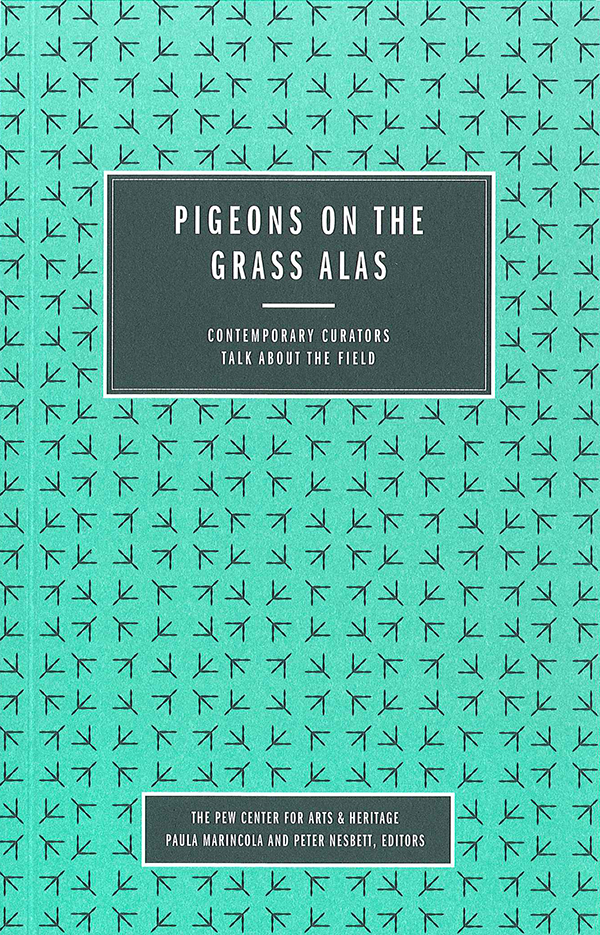 Ingrid Schaffner Is this a trick question? Curators have to be attentive to their audiences. Artists may be responsible only to themselves — to make something as well as they can so that it clearly expresses their ideas, interests, and passions. But a curator's responsibility is triangulated between an artist, the work of art, and an audience. You represent artists by allowing their work to speak for itself; at the same time you have to give viewers some sense of context, relevance, particularity, or essence that will enable them to hear what the work has to say. It's a delicate business, and sometimes space is all that's needed for this transmission to take place. That's your call to make as a curator. I keep a pocket audience in mind. It consists of a colleague I respect (someone who thinks about art in different ways than I do), a family member I love (someone who couldn't care less about art except they care that I do), and the artist (of course). Remembering to count one's self as an audience member is a good way to stay true to your own passions, interests, and ideas.
Claire Tancons As to for whom do I curate, it always depends and I never know. This is not a provocation. I think that my responsibility as a curator is not to force a particular viewpoint and hold captive an audience in the prescribed frames of knowledge institutions, such as the museum, the library, the archives. . . . I am often surprised by the self-righteousness of so-called audience outreach, which seems to imply that this special category of culture known as the arts, often the visual arts indeed, holds a premium on knowledge and education. But who says that we should go to a football game, attend Mardi Gras, or sit through the Angola Prison Rodeo? Having curated public processional performances, I find that their audiences, and certainly their participants, are likely to have been wider and more diverse than the average museum- or even biennial-going crowd. But my intentions are not toward a "democratic demographic," if you will, but are toward a self-constituted collective of a variety of voices, however small and temporary it might be.
Dan Byers I curate for a collection of audiences. Honestly. Here are some of them: I curate for me (what shows would I want to see?). I curate for artists and other curators. I curate for curious people. I curate for people who love some other field or subject the same way I love art. I curate for those people who need to be won over but are willing.
Daniel Fuller First and foremost, I curate for myself. I work with art and artists that give me a charge, and the hope is that others are equally affected and inspired. Also, I have a tremendous responsibility to present the students of the Maine College of Art with new ideas and to reflect a worldly viewpoint. We are the only institution in our state whose mission is to present national and international contemporary art; as a result, we are committed to working with cross-disciplinary artists in hopes of opening worlds and possibilities. Lastly, I curate for the general, perhaps uninitiated public. As someone who did not step into an art museum before the age of twenty, I approach many projects from the perspective of a storytelling enthusiast hoping to initiate meaningful conversations without taking an "a-u-t-h-o-r-i-t-a-r-i-a-n" tone. I wholeheartedly believe in increasing access to art. This frequently plays out with projects that go beyond the gallery, such as ICATV on Portland, Maine's public-access channel or bringing video art to the Jumbotron of the local minor-league hockey team. This is also why we so admittedly promote that the Institute of Contemporary Art at MECA is always free.
Pigeon Fancier Joseph?
Joseph Del Pesco I'm interested in thinking about, but not acting on behalf of, multiple or overlapping publics. We certainly see a braiding of parallel communities at Kadist in San Francisco. I think of the art world as a cluster of related subcultures, but we collectively (and I'm no exception) suffer from a cultural imaginary that art is relevant to a broader culture, even forming some of its root structure. I find myself aligned with an idea borrowed from Jean-Paul Sartre: that the "most challenging and productive exercise is to write for two widely different audiences simultaneously."
Jenifer Papararo For whom do I curate? I want to say my mother, more for comic effect than actuality. I don't want to perpetuate the cliché of "I present art in a manner my mother can understand." It is too condescending, yet in earnest I would like to engage her with contemporary art, and I try, though she generally isn't interested. She has told me on more than one occasion that the art world has an exaggerated sense of its self-importance. I usually laugh at this quip; there is some truth to it, but her dismissal and lack of desire to engage is a serious concern and a struggle that I mostly ignore. I'm not in pursuit of a resistant audience. A better place to start would be for me to address my relationship to artists, whom I perceive as an audience. This symbiotic relation is one that shifts depending on varied parameters, but in general terms I see my position as both responsive and generative. As a curator, I have a bifurcated practice. I work as a curator at the Contemporary Art Gallery in Vancouver, a noncollecting public institution, as well as part of the curatorial and artist collective Instant Coffee. My role in the latter was born as an attempt to enliven the relationship between artist and audience. It was sparked by noticing the difference between experiencing an artwork in the studio versus seeing it in an exhibition. Far too often, there seemed to be a loss of energy, or at least the terms of engagement were reduced. I think this occurs for varied reasons. The most obvious is the direct presence of the artist, but there is also the informal nature of the studio and the unfinished state of the work. The impetus for most of Instant Coffee's early event-based activities was focused on bringing these three circumstances together as public occurrences. We held large events, featuring work by sometimes more than seventy-five artists, designers, writers, curators, and architects. The events were more like gatherings for which we were attempting to level artist and producer with audience — where artists could show their contributions to other artists. It's not like there weren't audience members outside of the artists, but we lessened the immediate divide. Ideally, in both roles I want to build long-term relationships with artists, getting to know their work in-depth, as well as sharing my own interests and concerns with them. I believe this builds a platform from which we eventually respond to each other. Artists inform what I do, and the choices I make inform them. In part, I see my relationship with artists as part of building a dedicated audience. If I listen and respond to their thoughts and ideas, then inversely artists listen to my interests. We build an extended conversation. Ironically, this is the easy part of building an audience. The difficulty is expanding it beyond such an insular and circular forum. I've been wondering lately whether the same formula for building relations between artist and curator can apply on a larger scale, between institution and audience. Like the artist's interests, the audience's should always be considered. The goal of an exhibition should be generative and, of course, responsive to audiences. Reception is part and parcel of any exhibition. But I stumble in my argument already as basic questions arise. What does this audience look like? How do we know their interests? And why are they coming to experience contemporary art? If we start with the latter question but direct it to artists, then we have a more tenable question, still difficult, but one to which I'm more confident responding. My aligning of artist and audience isn't to put them on equal footing. The artist will almost always play a greater role in that equation, but the audience is central in the creative process, and they need to be informed of their integral role. This revelation seems a plausible place to start.
Pigeon Fancier What common thread unites the exhibitions you've organized? Do you have an overarching agenda, or do you consistently employ a certain methodology?
Astria Suparak My practice has had really distinct phases, based on the contexts, audiences, and my interests at those times. I fell into curating as an art student at Pratt Institute in Brooklyn, where in my spare time I ran a weekly media series that became part of a new wave of experimental film and video art in the late nineties. Early on, curating offered a platform from which to learn about disciplines and subjects outside of my classes and provided a means to bring together diverse communities into one room. After graduating, I became an itinerant, independent curator for microcinemas, festivals, art institutions, bands, and unconventional spaces from sports bars to skating rinks to ferry boats. Those film and video programs (often with music and live performance elements) were a direct outgrowth of my art making, assembled mainly by intuition, a more abstract and poetic style of curating that was reflective of the cultural moment and included a lot of artists from my generation from the margins or outside of the art world at the time. Those shows were less about illustrating preconceived ideas than about creating an emotional resonance and a narrative arc. Then, in my midtwenties, I was hired to be the inaugural director of a new university gallery in upstate New York, which was the first time I worked with a consistent exhibition space. Despite having a conventional white cube at my disposal, I resisted traditional exhibition-making approaches, transposing the strategies that I developed as a film and video curator to the space of the gallery: namely, the idea of making intuitive and ethereal connections between works rather than selecting pieces that would demonstrate a specific thesis; emphasizing group exhibitions rather than solo shows; incorporating nonart and highly local elements; and involving visitors in dynamic and unpredictable ways. Now at the contemporary art gallery of Carnegie Mellon University, and with increased interest in appealing across campus and city, my programming covers a broad range of subjects, recently including urban planning, science and technology, hacking, social justice, geography, economics and labor, alternative histories, and sports-fan culture. Since Pittsburgh houses many established art institutions, I wanted to create a clear and distinct identity for the gallery. We've done that in a short period of time with programming that is more explicitly social and political. Throughout all of this, what has remained consistent is my belief that curating provides an opportunity to explore ideas in surprising ways; to create memorable experiences; to support artists and politics I feel passionate about; to showcase unique and underrepresented perspectives; and to bring different people, from various walks of life, together.
Daniela Pérez I don't believe that I have yet a visible or evident common thread throughout the projects I have developed. I am still learning a lot about my personal take on a curatorial practice that does not make strict divisions between the forms of involvement in projects. However, I do recognize a personal interest, or at least a recurrent one, in working with conceptual artistic practices that delve into blank spaces from a historic and fictional point of view, at times addressing binary terms like memory and oblivion, empty and full, construction and destruction, relevance and extraneousness, position and displacement, among others. I am also interested in diverse formats that address specific content through temporary gestures and strategically conceiving projects in different sites and venues following methodologies that can address these things simulta-neously. Part of my current "agenda" is to privilege these kinds of projects through the curatorial platform I have recently started.
Ralph Rugoff The only overarching agenda that comes to mind is a desire to make exhibitions that can engage people on multiple levels, that can be experienced viscerally as well as intellectually, and that are serious and also playful. Part of my definition of a successful exhibition is one that confuses a little but doesn't leave the viewer feeling excluded. I'm not sure this is a common thread, but I always hope to curate shows that allow people to entertain some uncertainty about the nature of what they're seeing, its value and worth, as well as its possible meanings, and what rules and criteria we "should" be using to examine it. Sometimes it's possible to do this in a show that makes a specific argument linking a group of artists and illuminating their work differently — that goes against or around the grain of conventional ways of thinking about that work and what it means historically. Other times, it might be a matter of just spotlighting current artistic activity that opens up intriguing questions around a particular area. In general, I think the best shows I've done are probably the ones whose roots are tied up with some kind of personal obsession or that grow out of my own experiences and responses. I think working that way is more difficult in institutional settings, and may be one reason why so much high-level museum curating feels largely academic to me.
Pigeon Fancier Hi, Aram, thanks for stopping by. We are talking about the common threads that join our various exhibitions. Can you identify any in your work?
Aram Moshayedi Rather than working with art objects, I've tended to work with artists directly on the production of new projects. My interests are much more to do with the processes by which things come into being, and this makes it harder to identify themes or narratives that have informed my practice to date. Maybe it's something more like curating personalities, or trying to find like-minded individuals who are comfortable working within the specific set of conditions imposed by a given context. Exhibitions are merely devices of mediation, not unlike other cultural forms or information technologies that create distance between subjectivities and lived experience; this is something I'm trying to work against, with artists whose practices routinely consider the culture of display, which has so readily embraced the figure of the curator as a mediator or conduit.
Elizabeth Smith My curatorial career has ranged widely over architecture and visual art and across a broad time span of mid-twentieth century to present day, and I feel this has been an extraordinary privilege. While the exhibitions I've organized are seemingly quite disparate, there are common threads. I have always been most interested in the relationship between art and society; that interest was formed during my student days, when I focused on connections between visual art, literature, politics, history, etc., and it developed in projects I later undertook as a curator of architecture shows, including "Blueprints for Modern Living: History and Legacy of the Case Study Houses" and "The Architecture of R. M. Schindler," as well as exhibitions on the work of artists ranging from Jenny Holzer, Cindy Sherman, and Catherine Opie to Kerry James Marshall, Roberto Matta, Lee Bontecou, and Donald Moffett. Additionally, I might describe my "curatorial agenda" as an interest in bringing underrecognized artists or ideas to light and helping to reposition them in an art-historical trajectory and /or in current discourse.
Joseph Del PescoI'm not primarily interested in exhibition making. I operate from the position that the standardized exhibition is an exhausted format and that audiences are either oblivious to the narratives that curators propose or that they are overinfluenced by them and see groupings of artworks not as individual voices in proximity but as singing the same song. Some might call this a lack of confidence in the viewer (who might be reconsidered as an active participant-producer in the attention economy) or say that I've just seen too many mediocre exhibitions, both of which are true. Ultimately, I find it more productive to start from a position of not-exhibitions and only move in the opposite direction when necessary.
Reprinted by permission of the Pew Charitable Trusts.