Influencing Public Policy in the Digital Age
The Law of Online Lobbying and Election-related Activity
2011, 34 pages. Alliance for Justice, 11 Dupont Circle NW, 2nd Floor, Washington, DC, 20036, (202) 822-6070, http://www.afj.org.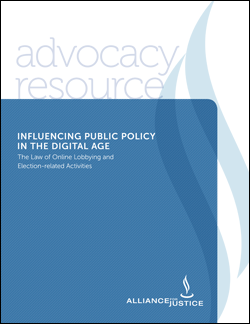 Download:

   Influencing Public Policy in the Digital Age (782Kb)

This publication is designed to translate laws and regulations into approachable and applicable guidance for nonprofits hoping to engage in effective online communication and advocacy.
Rules and regulations governing permissible activities for 501(c)(3)s, 501(c)(4)s, and 527s often do not explicitly categorize online actions as either permitted or prohibited, leaving many nonprofits to rely on sheer guesswork when communicating online. This guide contains guidance for nonprofits as they deal with websites, email, blogs, Facebook, Twitter, and other online avenues that didn't exist when many of the relevant rules and regulations were written. It was designed to answer the questions nonprofit managers and staff most frequently face, including:
May a c3 and a c4 share a website?
May a 501(c)(3) website include candidate endorsements?
Do the IRS and FEC rules apply to social networking sites?
May a 501(c)(3) let a 501(c)4 or a candidate use its email list?
May we talk about candidates in tweets, texts, and status updates?
What should we do if a candidate or supporter posts something political on our
Facebook wall?
What should we do if a candidate or another person tweets something about our
501(c)(3) organization that's political, or associates a political hashtag with our
name?