How to Be a Soil Keeper
Regenerative Justice and Whole Systems Care
Just societies cannot grow in toxic soil. To build regenerative communities, we should look to how life flourishes in the natural world, of which we are an inherent part.
In this critical moment in our shared history, the call for humanity to evolve is growing louder. But what exactly does this involve? Transformational change emerges from deep beneath that which we can see. Our beliefs shape our identities, just as soil health shapes plant life, and culturally constructed paradigms shape social systems. Realizing the promise of a just society, the aim of desired transformational change, requires us to remediate inequities embedded in our soils, societies, and selves. However, 'systems change' work often stops short of integrating each of these nested domains, hindering our ability to cultivate conditions conducive to life.
Many people trace the origins of injustice, and need for transformational change, back to colonization. Looking at the root of this term can help us understand these complexities and devise new healing pathways. The term colonization comes from the Latin words colere, meaning "to till," and colonia, "the soil." The Western imagination tends to associate tilling by mechanical plows as the hallmark of industrial progress and evidence of cultural superiority. However, Indigenous land stewards and a growing movement of natural farming advocates know that tilling soil destroys the very source of its power and regenerative capacity by severing the diverse web of relationships responsible for maintaining its fertility. By tearing soil's social fabric, tilling disrupts life-supporting processes causing vital resources to become concentrated, creating disparities of power, wealth, and wellbeing. As a result, a destructive spiral of dependency is set into motion.
By tilling the soil of communities, colonization has had an equally damaging effect, severing intimate relationships between people and place, cultural knowledge, and each other, contributing to durable inequities. The resulting concentration of wealth disrupts life-supporting processes and generates an unnatural dependency on external inputs, such as philanthropy. Soil fertility, like justice, is a dynamic condition that enables life to thrive over time. Maintaining both requires a diverse web of entities to continually recalibrate how they behave in step with shifting circumstances and led by those most impacted by those changes. Collaborative learning that is context-sensitive enriches this adaptive capacity and supports the equitable distribution of vital resources, enhancing the wellbeing of the whole.
While it's widely understood that a coordinated ecosystem of actions is needed to advance a just society, most sectors, organizations, and initiatives tend to work in isolation from one another and, at times, cross-purposes. Well-intentioned as they may be, these measures often stop short of realizing their potential to empower us to see the world, each other, and ourselves in profoundly different ways. The fractured landscape of social change work is a byproduct of a Western understanding of how change happens. This fragmentation underscores the importance of remediating the grounds from which this work emerges through intercultural exchange and collaborative learning experiences.
The practice of soil keeping provides individuals committed to realizing a just society with a compelling basis for imagining their work and recognizing the interdependencies between people, place, and planet. More specifically, the principles used to restore fertility to soil can be extended to heal communities harmed by the same underlying forces — supporting reparative justice, personal development, and collective self-determination.
Nature provides elements and contours of the just society to which we aspire. No one waters a forest or fertilizes a meadow, and yet abundance is everywhere. Living systems use a set of time-tested principles to share power and collectively maintain fertile conditions in which life can flourish. Healthy ecosystems demonstrate the kind of actors, distinct roles, relationships, exchanges, structures, and behaviors that enable systems to transform to support the vitality of the whole. All of this activity rests upon the fulcrum of soil.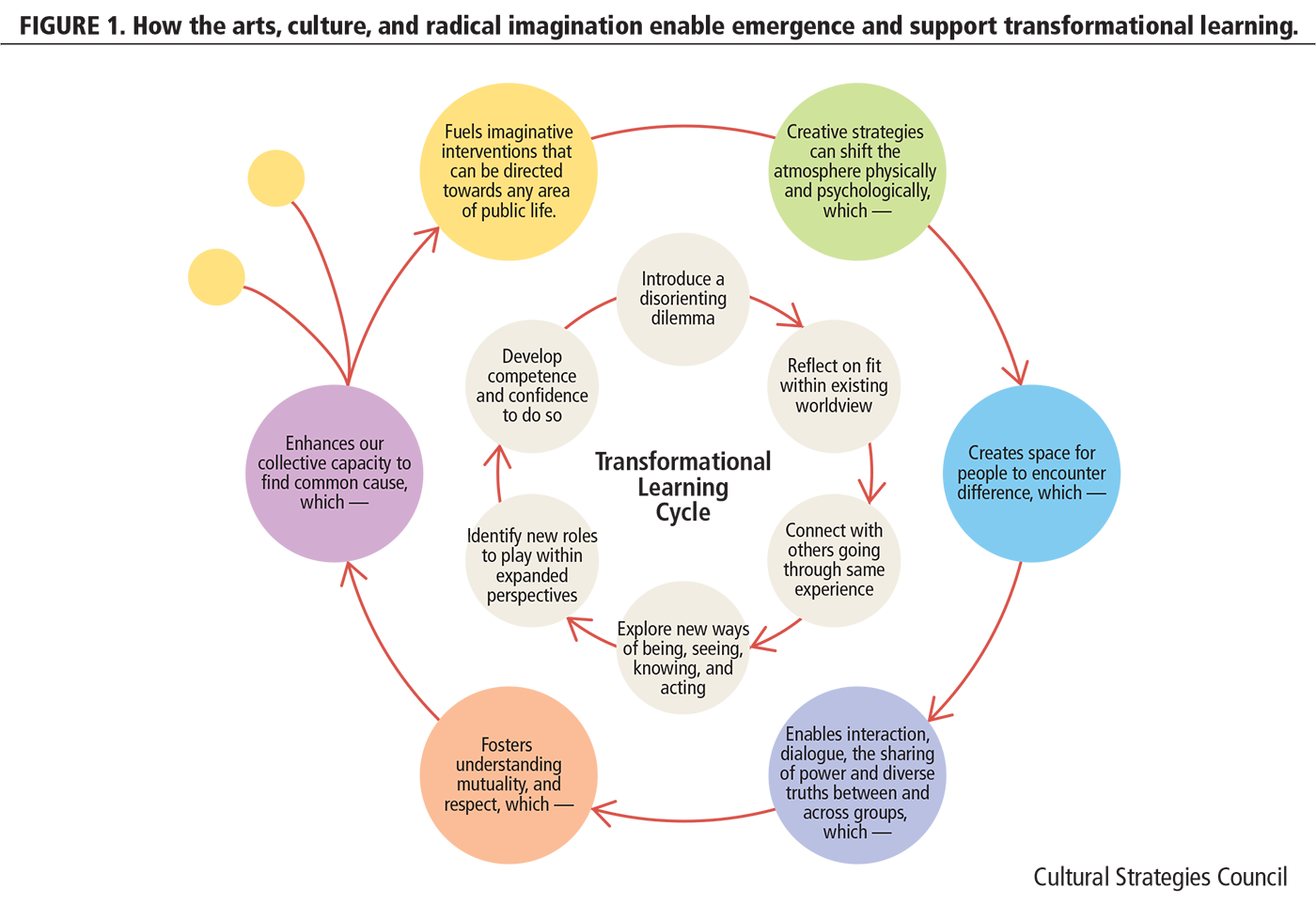 I've been exploring how the characteristics of vibrant ecosystems align to the levers contained in western systems change frameworks to deepen my understanding of how we can foster emergence — for example, trees to enabling institutional structures, nutrient cycling to circular economies, fungi hyphae to mutual aid networks, compost to culture, perennial renewal to liberation, and so on. In doing so, I've come to believe that soil keeping provides a compelling metaphor and practical lessons in how we can nourish radical imagination and facilitate transformative change, within ourselves and in relationship with others.
Soil keeping teaches the values of cooperation, trust, and subsidiarity in and intuitive and pleasurable way. Rather than imposing change upon the soil, investments focus on cultivating fertile conditions in which the actors closest to the ground collectively determine how best to circulate resources and adapt over time. Applying a soil-keeping ethos can democratize power, wealth, and wellbeing. Doing so generates a fertile environment in which new relationships, ideas, and ways to maintain justice can continually emerge. To date, however, this approach's potential to transform philanthropy and socially motivated investment is not fully realized.
Entering into dialogue with nature, of which humanity is an intrinsic part, reveals insights those committed to actualizing justice seek. Many Indigenous cultures and wisdom traditions embody this knowledge, suggesting that a soil-keeping ethos can facilitate the deep cultural and social healing necessary for our collective liberation. By embracing a more expansive perspective that recognizes the power of diverse ways of knowing and being, the practice of soil keeping begins to remediate the mindsets that hold injustice in place, allowing equitable access to new tools and techniques.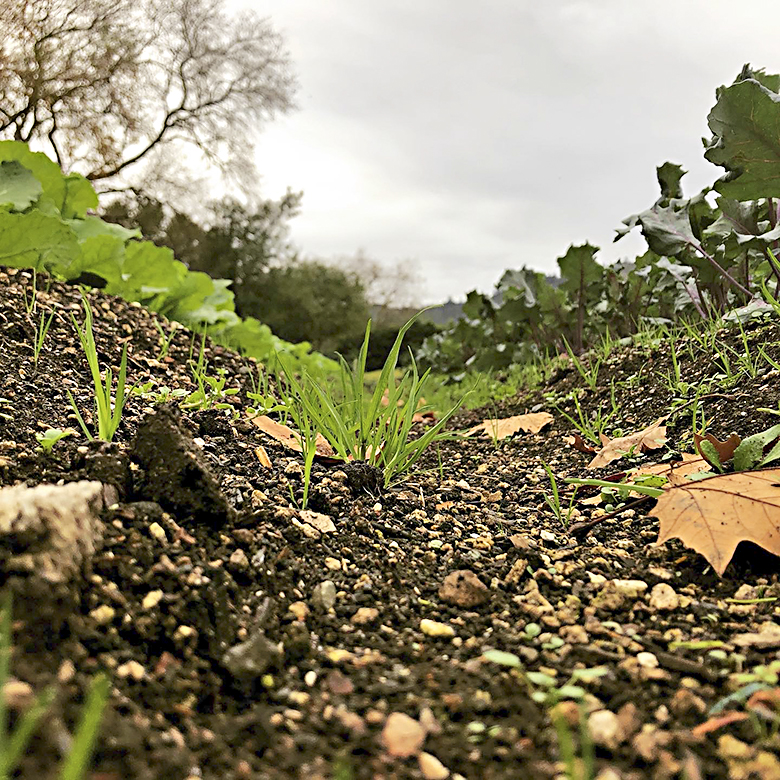 How to be a Soil Keeper
A suite of restorative principles can heal soil and enhance its regenerative capacity by ensuring power, wealth, and wellbeing increase over time. The resulting fertility is the energy that enables complex systems to experiment, learn, adapt, and continually discover how to care for the common good. This aliveness can only be created through diverse cooperation and collective willingness to evolve. I've mapped how these principles can enrich communities' regenerative capacity and restore life-sustaining relationships with the land, culture, and each other. I believe these principles can inform more integrated investments, interconnectedness, and facilitate the just transition to which we are working.
Principle 1: End harmful disturbances
Soil restoration involves deep observation, listening, and honest accounting of the "disturbance regime" or pattern of harm that has impacted a particular place. Limiting harmful practices in community involves productive conflict and truth-telling from the perspective of those most impacted, which begins to reconcile our relationship with the land and each other. Culturally safe responses are rooted in community voice, values, and vision to ensure restorative practices acknowledge past harms, shift power, and mitigate future damage through meaningful accountability mechanisms. Identifying patterns that we wish to amplify and dampen reveals what needs to change to support life and bring a new world into being.
Principle 2: Rest
Colonization permits extractive practices such as industrial agriculture that traumatize soil. Hyper-productivity depletes soil of nutrients and relationships, eventually exhausting its life force completely. For soil to heal, it must rest, disrupting these patterns of harm.
Colonization produces norms and expectations about what constitutes appropriate behavior that often conflates labor with value. Some view habitual productivity as one such artifact of White Supremacy Culture. Tricia Hersey, founder of the Nap Ministry, suggests, "Rest is a form of resistance because it disrupts and pushes back against capitalism and White supremacy." Rest provides spaciousness for healing and dreaming of alternative futures. As such, ease provides a critical counternarrative essential to liberation movements, including efforts to advance regenerative societies. By modeling new forms of creativity and care that don't sacrifice our wellbeing, we can undo past harms and preserve the energy needed to realize our vision with pleasure and ease.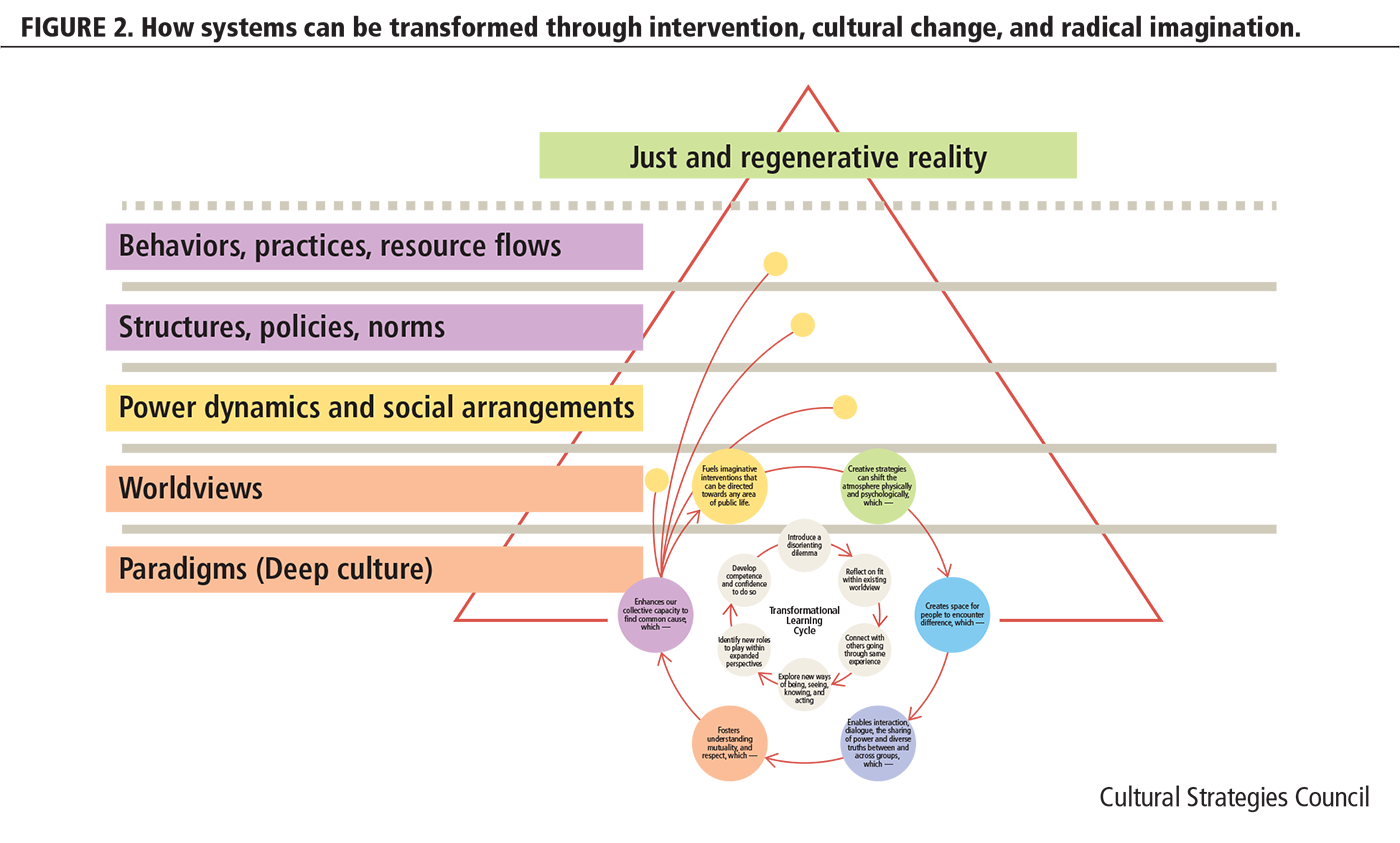 Principle 3: Protect
No-till farming techniques protect soil's mutual aid networks and crop roots, providing future plants with easy passage to more distant nutrients, strengthening soil's structure and fertility. Just societies protect diverse communities, providing safe places to live, dream, grow, and realize their fullest potential through caring relationships and a culture of belonging. Grassroots organizing protects communities; builds power and capacity for local stewardship of diverse forms of wealth – including cultural capital. As with water, we can ensure the equitable circulation of financial investments through structures like community development financial institutions and credit unions that recirculate capital through cooperative and culturally relevant governance. We can cultivate cover crops or entities and activities that intentionally protect vulnerable groups from oppressive systems, facilitate the robust flow of resources, ease mobility, and expand opportunities to enhance communities' regenerative capacity.
Principle 4: Reforest
Trees are keystone species, nature's anchor institutions upon which the health and biodiversity of complex ecosystems depend. Trees, working in unison, facilitate the robust circulation of essential resources and opportunities across diverse systems. Trees offer protection, prevent displacement, balance the climate, ensure we can breathe, promote beauty, and adapt in dialogue with local conditions.
Efforts to advance just societies invite institutions to act more like trees. Dissatisfaction with democratic institutions is shared globally. Many societies express frustration with institutions that impose an idea of the future, leaving little room for citizen participation. We need new organizational structures that encourage widespread civic engagement and amplify society's most abundant source of ideas — its people.
Participatory processes that shift power and center subsidiarity enable inclusive governance and the emergence of imaginative interventions. Creating space for a more diverse range of worldviews to inform the shape and substance of public problem-solving helps restore trust and revitalize modern democracies. Future-facing institutions' primary task would be to create fertile conditions that enable diverse entities to exchange ideas (seedlings), experiment, and continually learn how best to distribute vital resources so entire ecosystems thrive. In short, to facilitate whole systems care.
Principle 5: Foster polycultures
Nature rebuilds soil fertility through awesome cooperation, enabling diverse elements to contribute to the whole's wellbeing. This diversity of resources and expertise provides soil, and living systems more broadly, with limitless ways to experiment, learn, and adapt in service of the whole. Conversely, monocultures, like White supremacy, rob their environments of the fertility generated when diverse entities enjoy shared prosperity. Restorative practices for building community emphasize the cultivation of polycultures and equitable partnerships, particularly at the edges of systems, where dominant patterns are weakest and opportunities for transformation greatest.
In societies marked by division, efforts to advance regenerative cultures must include opportunities to develop meaningful relationships across all lines of difference and right relationship with this profound diversity. However, actualized justice does not end with the forging of new relationships. Rather, diverse relationships provide portals to accessing a more expansive array of worldviews, which can nourish radical visions of the liberated future to which we are working. Different ways of being and knowing offer limitless ways to frame, understand, and respond to the complex challenges that characterize 21st-century life.
Creative interventions that promote cultural rights1 support these processes by shifting the atmosphere, enabling individuals to encounter difference, engage in intercultural dialogue, develop critical consciousness, and find common cause — the foundation of imaginative collective action and whole-systems care. Cultural practices and radical imagination can also facilitate transformational learning, the means by which individuals can reconstruct their worldviews. Consequently, space must be preserved, both physically and psychologically, for this virtuous cycle to occur.
Principle 6: Grow and nourish
Building soil fertility involves transforming death into life through decomposition, fermentation, and digestion, making nutrients bioavailable In Conflict Resolution for Holy Beings, Joy Harjo, an elder of the Muscogee Creek Nation, writes, "The land is a being that remembers everything." Like cultural memory, compost enriches soil with place-based knowledge that supports learning, energizes adaptation, and nourishes future patterns of being. In fertile soil, transformational change does not result in loss, per se, but a repurposing of what was to energize what's to come.
Regenerative communities leverage the evolutionary power of cultural diversity. Seeing the world through this lens can inspire the imagination and ignite the sense of agency necessary to transform one's beliefs. By shifting our perspectives, we develop the cognitive flexibility needed to accommodate others' truths and grow, individually and collectively. Embedded artists, designers, and culture bearers can facilitate these exchanges across groups, sectors, and disciplines — inoculating against attitudes and actions that enable patterns of harm to persist.
Principle 7: Impermanence
Finally, restoring soil fertility requires we embrace impermanence and the fallacy of infinite growth in a finite world. Successive interventions provide soil with evolving opportunities to access different types of nourishment throughout its restoration. Decomposition creates a revolving loan fund that enriches what's emerging. This cycle of renewal presents opportunities to let go of patterns that no longer support the whole system's vitality. Cultivating fertile conditions enables new relationships, ideas, identities, and behaviors to emerge today and in the future.
Embracing the possibility that solutions may not be permanent encourages curiosity, ongoing dialogue, and co-creation across multiple lines of difference. Centering community voice enables partners to continually learn how the world is changing and care for the common good. Transcending fixed notions of what's possible invites us to reimagine our relationship with vulnerability — not as a weakness, but as a malleable space where we can continually reconstruct how we want to show up in the world.
Embracing impermanence allows us to inhabit time more spaciously and move in sync with nature's rhythms. By slowing down, we can expand our consciousness of time and feel continuity with past and future generations. In seeing our impact on the earth and each other, we can begin to appreciate how our fates are intertwined. In recognizing life's fragility, we can develop the capacity to practice whole systems care in the present and in ways that resonate across time.
Impermanence illuminates what's been lost, but also what wants to be found. Humanity is on the cusp of recreating how we live in relationship with all life. This liminal space we're moving through invites us to embody the future to which we aspire — this is the self-work of transformational change, and it's within reach to all of us. Cultivating fertile conditions enables new relationships, ideas, identities, and behaviors to emerge.
Join me in learning how you, too, can be a soil keeper.
Kiley Arroyo is executive director at Cultural Strategies Council, established in 2007, as a vehicle for interdisciplinary research, collaborative learning, and justice-centered transformation. She would like to offer her eternal gratitude to Ron Ragin whose wise counsel and thought partnership has been essential in developing these ideas and how they are evolving in practice.
Later this year, Arroyo will be officially launching Soil Keepers, LLC, a new adaptive learning venture rooted in regenerative practice and intercultural approaches to transformational change. Watch http://www.soilkeepers.org/ for updates.
NOTE
Cultural rights are enshrined in Article 27 of the Universal Declaration of Human Rights, which the US helped create and remains a signatory of. The article states, "Everyone has the right freely to participate in the cultural life of the community, to enjoy the arts and to share in scientific advancement and its benefits."