Is Grantmaking Getting Smarter?
A national study of philanthropic practice
20 pages, March 2012. Grantmakers for Effective Organizations, 1725 DeSales Street NW, Suite 404, Washington, DC, 20036, (202) 898-1840, www.geofunders.org.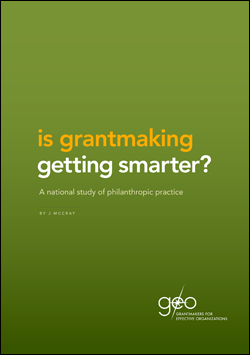 Download:

   Is Grantmaking Getting Smarter? (2Mb)

This report of a study, conducted at three-year intervals, that surveyed 755 staffed grantmaking foundations in the U.S. It concludes that grantmakers did not change many of their practices significantly in the past three years. However, they protected much-needed general operating support and capacity-building dollars. Grantmakers also made some adjustments to their internal processes to make applying for grants easier and to speed up the time it takes to reach a decision and deliver the cash.
The report suggest that we may be seeing a shift in the way that funders see themselves and their role in supporting nonprofits. Funders are seeking additional ways to stay plugged in, including seeking feedback from grantees to help strengthen their performance. Also, they are increasingly participating in dialogue with their peers through communities like the GEO network. In particular, grantmakers with an ear to the ground tended to use their investments to help build strong, adaptable nonprofit organizations. It is these resilient nonprofits that stand the greatest chance of making a difference at times when their communities are in the greatest need.