Effective Economic Decision-Making by Nonprofit Organizations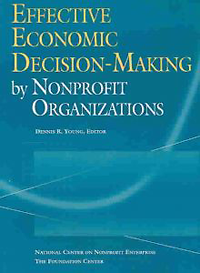 Editor Dennis R. Young offers practical guidelines to help nonprofit managers maximize the effectiveness of their valuable resources. Nonprofit leaders must advance their mission while balancing the agendas of trustees, funders, government, and staff. Here, expert authors explore the core operating decisions that face all organizations and provide solutions that work for nonprofits of any size.
Chapters cover such key issues as pricing of services, staff compensation, outsourcing, fundraising costs, and investment and disbursement of funds.
Published by the Foundation Center and the National Center on Nonprofit Enterprise, December 2003, 228 pp.
Available online from The Foundation Center.