Developing Artist-Driven Spaces in Marginalized Communities
Reflections and Implications for the Field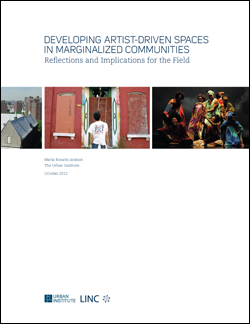 Download:

   Developing Artist-Driven Spaces in Marginalized Communities (3.9 Mb)

Spaces in which arts and cultural activity happen are often the pulse points of communities. At their best, they are places in which artists, tradition-bearers and cultural workers are in charge. They are places in which people gather; curiosity is piqued; world views are challenged or affirmed; preservation and innovation are fostered; creativity and imagination are stoked; intellect, critical thinking, and compassion are expanded; and people find inspiration that leads to a more generative society. These places can also help to create a community's identity and promote stewardship among residents and stakeholders. Art spaces can stimulate civic engagement, and affect economic conditions directly and indirectly. While art spaces are important in all communities, they can be especially significant in low- and moderate-income communities that are striving to improve the quality of life of and opportunities for residents.
This essay distills important issues to consider in the creation of artist-driven spaces, primarily those in marginalized communities. It begins with a brief background discussion of the space development process and why artists work in marginalized communities. This is followed by a discussion of considerations related to
organizational structures and resources,
purpose and leadership,
site selection
relationships with residents and other stakeholders, and
sustainability and implications for the field.