The Art Of Participation: Shared Lessons In Audience Engagement
2010, 98 pages, The Boston Foundation, 75 Arlington Street, 10th Floor, Boston, MA, 02116, (617) 338-1700 http://www.tbf.org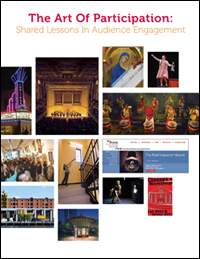 Download:

   The Art Of Participation (2.3Mb)
In 2006, Boston became one of the first two cities selected for the Wallace Foundation's Excellence Awards initiative. Thus began a four-year collaboration among the Wallace Foundation, the Boston Foundation, and the Massachusetts Cultural Council to increase public participation in the arts. The three agencies set out to support Greater Boston-based cultural organizations that, in the words of Wallace Foundation President M. Christine DeVita, "have made a commitment to engage more people deeply in the arts part of their DNA."
The program recognized organizations that were already innovators in the field and provided funding and a support network to assist them in stretching even further as they carried on what the Wallace Foundation calls "the vital work of bringing the powerful benefit of the arts to all."
Although the three funding agencies have different purviews—national, community-wide, and state-wide—they share a common goal of making the arts more integral to people's lives. But the initiative was not limited to broadening and deepening cultural participation. At the same time, the funders sought to shine a national spotlight on the critical need to engage more people in the arts and to draw lessons from the experience in Boston (and other cities supported by Wallace) that might guide and encourage other cultural organizations across the country.
"We wanted to work with organizations that were ready to take on a growing edge and to embrace the challenge of increasing participation as part of a larger strategy," says Ann McQueen, former Senior Program Officer for the Boston Foundation. "To be truly successful, audience development must cut to the core of an organization's mission, rather than just be a strategy of the marketing department," concurs Charlie McDermott, Deputy Director of the Massachusetts Cultural Council.
Ultimately, the initiative involved 22 Greater Boston-based organizations, including seven direct Wallace grantees and a local cohort of 15 organizations that were re-granted funds from a Wallace Foundation grant to the Boston Foundation.
Beyond providing financial support, the initiative facilitated an exchange of knowledge by creating a Participation Learning Network (PLN). Based on the model of a community of practice, the PLN brought together organizations with shared interests and similar challenges to learn from each other over an extended period of time. Public forums, directors' sessions, workshops, and special-interest salons provided the framework for an ongoing exchange of ideas. As organizations implemented their individual plans, they also contributed to the larger community. For continuity, each organization was asked to identify two key staff members who would attend PLN meetings on a regular basis.