Lighting the 8th Fire at the 2022 GIA Conference
On Monday, October 10, 2022, GIA welcomed Lighting the 8th Fire to the stage during our conference in New York City. Presenting artists include Sarah Sunshine Manning, Marca Cassity, Will Wilson, Frank Waln, and Mic Jordan with an introduction address from Eddie Torres.
The recording is now available to
stream
.
A Reflection on the Black Arts Funding Summit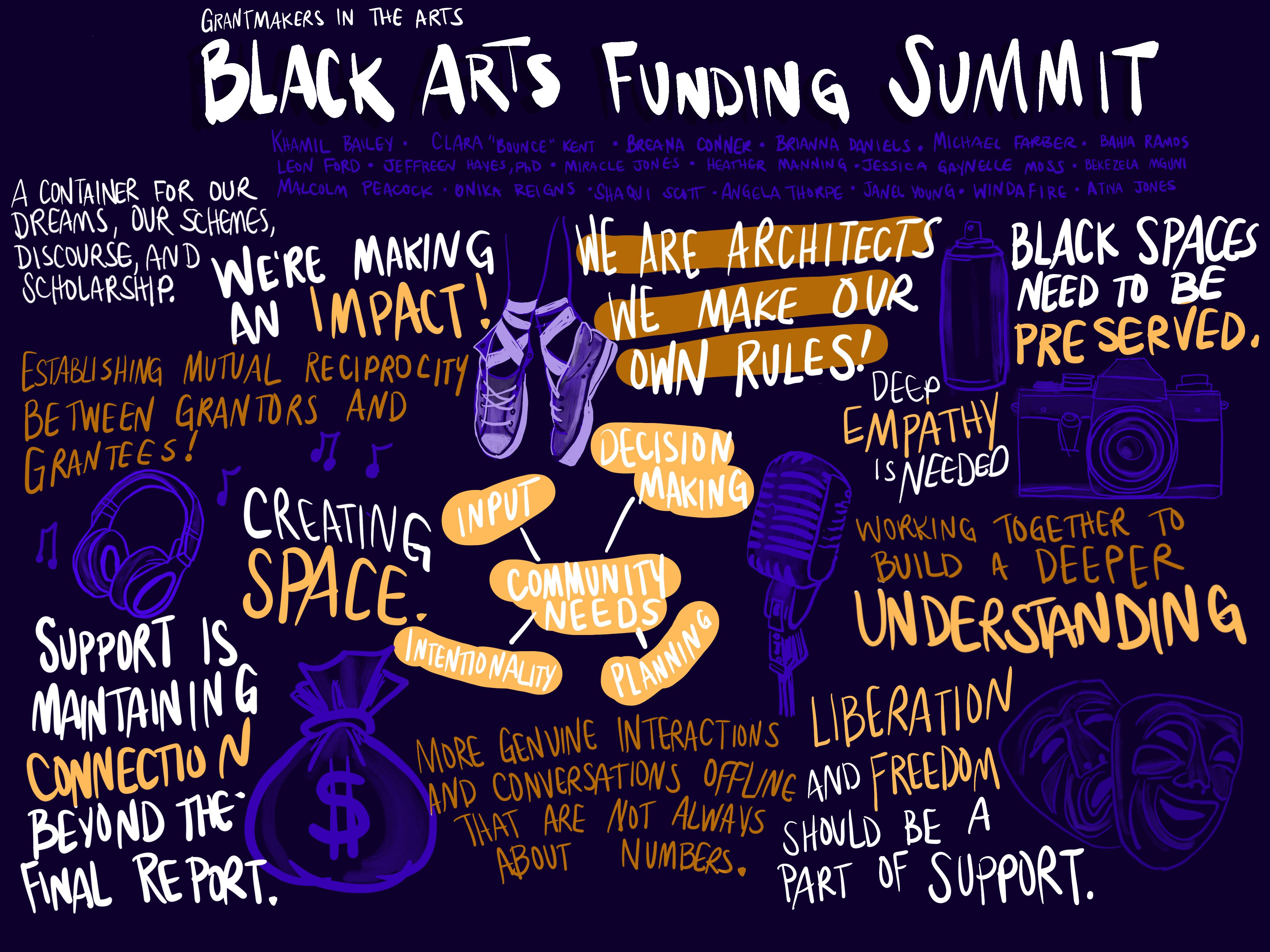 On December 15, 2022, Grantmakers in the Arts hosted its first Black Arts Funding Summit. This virtual gathering of 113 artists, arts administrators, and funders was an opportunity for attendees to acknowledge and understand the long histories of exclusion, disenfranchisement, and disendowing in the philanthropic sector. The event featured Black artists and funders who spoke to both personal and professional experiences, and shared strategies and tips for reconciling harm.
Toya Beacham, graphic recorder and artist, created a piece to capture the highlights of the event. A recording of the event is also available here. Attendees left the event energized and ready to act. One attendee shared in follow-up, "Valuing, amplifying and intentionally creating space for community expertise as a fundamental step in designing and implementing funding strategies and policies."
We look forward to continuing these conversations, and creating this space for dialogue on funding for Black arts. Learn more about the event on our
website
.
Register for GIA's 2023 Racial Equity Workshops by February 17
Our Racial Equity in Arts Funding Workshops include information on the history of racialization in the United States, the history of cultural funding, and real-world stories of success and examples of racial equity funding, strategies, and resources you may bring with you back to your organizations.
The workshops are facilitated by Jonny Altrogge from True North EDI, and by GIA team members Eddie Torres, president & CEO; Nadia Elokdah, vice president & director of programs; and Sherylynn Sealy, senior program manager, and include first-person lessons from guest speakers from the grantmaking field.
GIA's workshop will be delivered as 4 three-hour modules with series available in March and May.
Learn more and
register
by February 17 to participate.
Join us for GIA's Annual Research on Support for Arts and Culture Part 1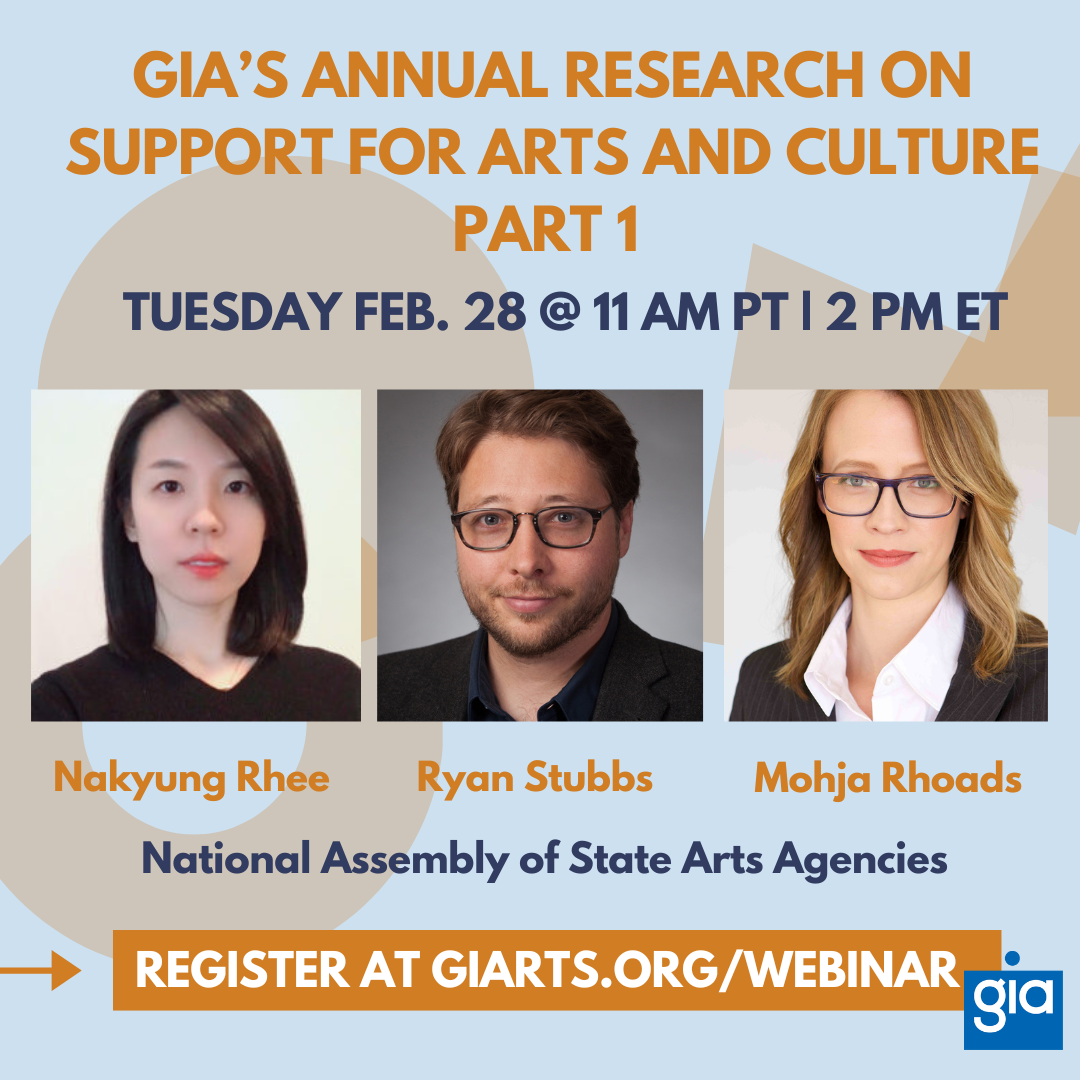 Join us on February 28 at 11am PT/2pm ET for a presentation from National Assembly of State Arts Agencies' Nakyung Rhee, Ryan Stubbs and Mohja Rhoads. They will share a summary of key findings and insights into what these findings reveal about the current public sector arts grantmaking environment, as well as an introduction to what we can expect for the new year.
GIA Reader Guest Editor Series on Liberation: please take your time
Meena Malik, vocalist, arts consultant, cultural organizer, and GIA Reader guest Editor offers an opening frame for a collective of articles, poetry, music, short films, and artistic practices that each, in their own ways, bring clarity to the questions: What does practicing liberation look like for you? What does liberation look like in process/in practice?
In please take your time, Ryuta Iwashita, movement/performance/visual artist and educator, shares their poem:
please take your time to read this
please stop reading when you need to
please play the background music
please look around without turning your head
please look around as you turn your head
Photo Courtesy: Thomas S. Kenan Institute for the Arts | Credit: Owens Daniels Photography
"My argument is because [right wing authoritarianism] is the central struggle of the day, we need the most effective, principled and impactful progressive organizations that are seeking to challenge that," says Maurice Mitchell, national director of the Working Families Party. Mitchell is also an activist and co-founder of Blackbird, an organization that has provided infrastructure support for the Black Lives Matter movement and other groups around the country...
From Forbes" "Dr. Carmen Rojas, President and CEO of Marguerite Casey Foundation, is the youngest Latina to run a nationally endowed philanthropic foundation. Her colleague, Jonathan Jayes-Green, Vice President of Programs at the same foundation, is the first and only undocumented leader to serve in an executive role in a national private foundation in the U.S.. For the two, not only are they breaking the pale, stale and male stereotype of philanthropy, they are also challenging how philanthropy is being done..."
From Berkley Othering & Belonging Institute: "The 'Structural Racism Explained' video (above) draws upon many varied sources in formulating specific definitions for different types of racism...
"The Mellon Foundation today announced the appointment of theater veteran and advocate for equity and justice in the arts, Stephanie Ybarra as Program Officer in its Arts and Culture program area, effective April 3, 2023. As part of her role, she will help shape individual grantmaking and launch philanthropic initiatives in the performing arts, leveraging the grantmaking, convening, and research assets of the Foundation..."