Conference Events
SUNDAY, OCTOBER 18
Sunday Newcomers Reception
This casual event for first-time conference attendees will provide a quick overview of conference events to help you get the most out of your conference experience. You will also have the opportunity to meet GIA's board members and staff. The reception will be held in the finely detailed Bernard's, formerly used as a five-star venue for dinner and dancing. The conference opening reception will follow immediately after.
Sunday Opening Reception
The Opening Reception will take place Sunday evening in the exquisite Crystal Ballroom (moved from Gold) at the Millennium Biltmore Hotel. The intricately designed 11-story hotel opened in 1923 to national acclaim as the largest hotel west of Chicago. It has been the setting of such historic events as the first banquet of the Academy of Motion Picture Arts and Science in 1927 and The Beatles' famous helicopter landing on its roof to escape crowds of fans in 1964. In 1969, the Biltmore was designated as a Historical Cultural Landmark by the City of Los Angeles.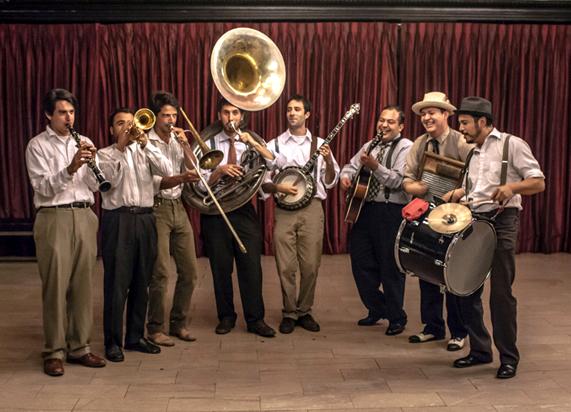 Equal parts New Orleans jazz and ragtime, The California Feetwarmers deliver horn-heavy rags, banjo stomps, and happy traditional jazz for your ears and feet! Based in Los Angeles, the California Feetwarmers formed in 2012 and have entertained devoted followers, music lovers, dancers, and children of all ages. Always a favorite with the dance crowd, the Feetwarmers perform at a variety of swing dance events in and around California.
If interested, a unique community cultural event, CicLAvia, is taking place on Sunday throughout the downtown Los Angeles area. Aaron Paley, who is one of our IDEA LAB artists, co-founded the event.
MONDAY, OCTOBER 19
Monday Dine-Arounds
Taking advantage of being in downtown Los Angeles, this year's Dine-Arounds will include a wonderful variety of cuisines and experiences. These no-host, informal dinners offer a chance to socialize with colleagues and experience vibrant diversity of LA and its food scene. Signup will be onsite at conference registration on Monday. Participation is first-come, first-served. The Dine-Arounds for the LA Conference have been coordinated by Matty Wilder, The Herb Alpert Foundation.
Find your group at 6:15pm in the Gold Room. Departure will begin as soon as groups can gather. (Please note that the group going to Baco Mercat will need to gather at 6:00pm and depart by 6:15pm due to the time of the reservation.)
TUESDAY, OCTOBER 20
The Broad Museum, Private Viewing Opportunity
Enjoy a special opportunity to see The Broad Museum in a private viewing just for GIA conference attendees. The Broad is a new contemporary art museum being built by philanthropists Eli and Edythe Broad that will open to the public in late September. The museum, which is designed by Diller Scofidio + Renfro, will be home to the nearly 2,000 works of art in The Broad Art Foundation and the Broads' personal collections, which are among the most prominent holdings of postwar and contemporary art worldwide. The Broad will be open from 5:00pm – 6:30pm. Afterwards, you'll just need to walk across the street to the festive evening dinner at the Museum of Contemporary Art.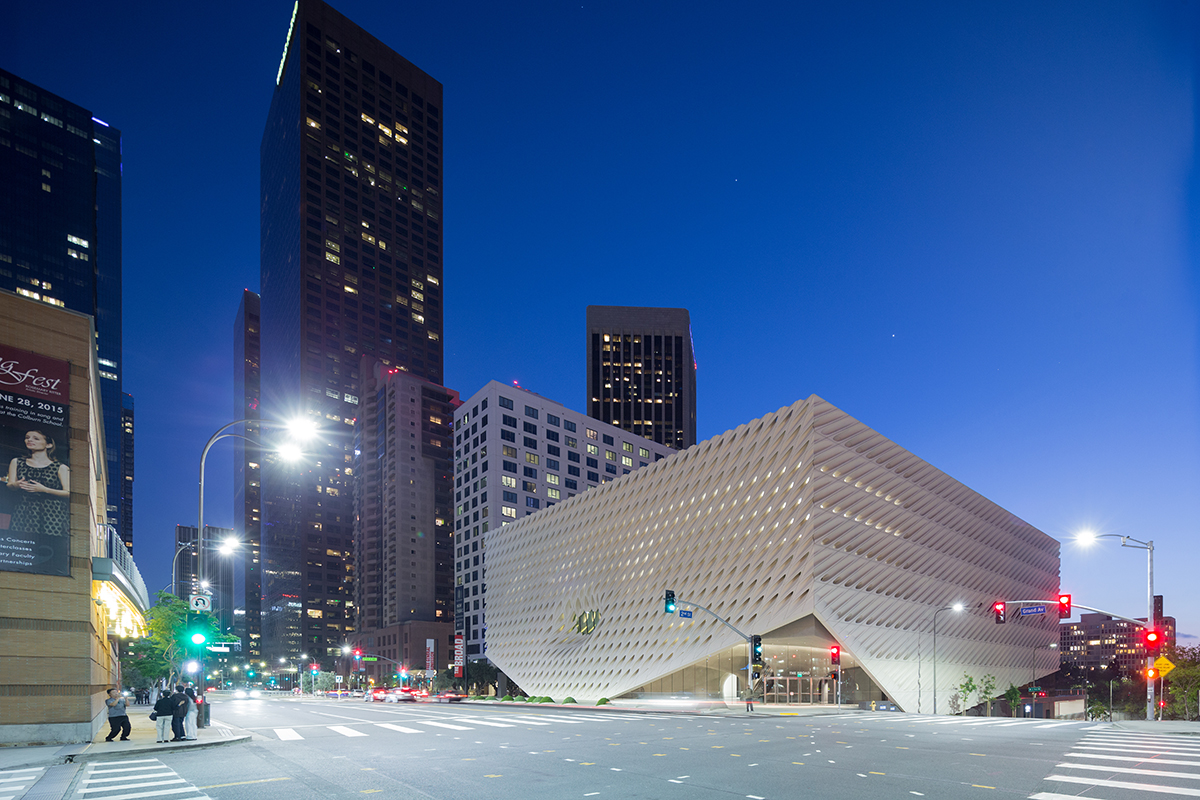 Tuesday Evening Dinner at MOCA
On Tuesday evening, conference attendees will visit The Museum of Contemporary Art (MOCA), Los Angeles for a special dinner from 6:30pm – 8:30pm. Founded in 1979, MOCA is nationally recognized for adventurous programming in addition to having one of the nation's most renowned permanent collections of over 6,800 works of art. An important cultural resource, MOCA provides extensive opportunities for education and engagement to thousands of national and international visitors each year. Attendees will also have the opportunity to visit the museum's current exhibits.
Featured music will be presented by dublab, a nonprofit LA-based music public broadcasting internet radio station. Its name is a portmanteau of dubbing and laboratory for the combined meaning: a place of experimenting with sampling music. Its broadcast is transmitted, open formatted and live four days per week with shows hosted by a collective of approximately 30 deejays. It is also involved with art exhibitions, film projects, event production, and record releases.
Following the reception, you may consider exploring the cultural offerings of downtown Los Angeles. As a starting point, visit the websites for the The Music Center and LA Tourism & Convention Board.
Discover Los Angeles
Our Southern California GIA members have prepared a website just to help you enjoy the city and all its offerings. Check it out here.