Join GIA for "Supporting BIPOC Executive Leadership: A Revolutionary Imperative"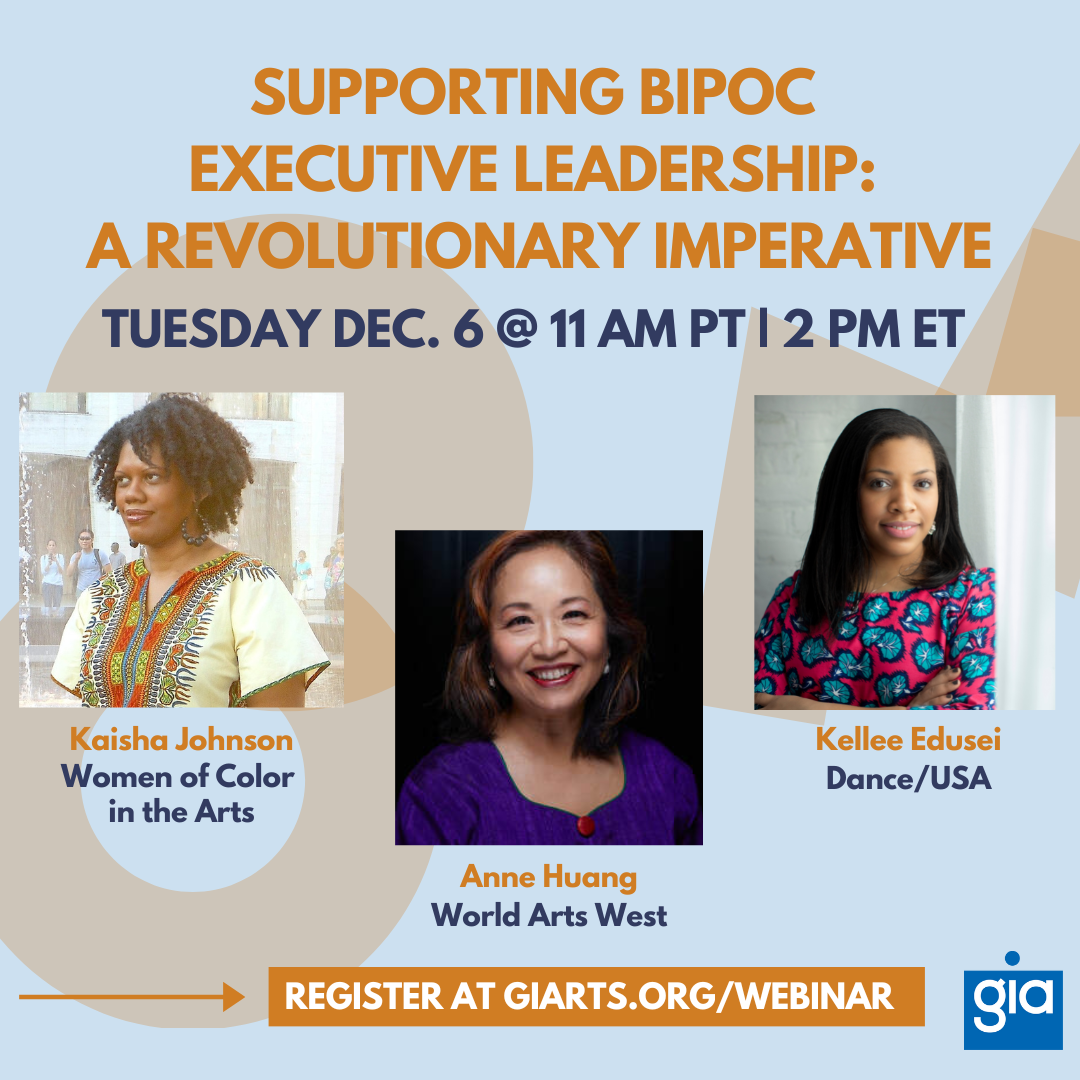 Tuesday, December 6 from 2-3:30pm EST / 11-12:30pm PST
In this session, we begin to unpack the questions: "How do we mitigate the negative experiences leaders of color face when charged to lead historically white organizations? How do we support executive leaders of color – physically, emotionally, and financially - within systems that consistently fail to provide the resources they need for success? What are some tangible steps to support and help retain BIPOC EDs before and during the recruitment and hiring process, throughout onboarding, and beyond? How do we help BIPOC executive leaders at historically white institutions thrive?"
Kellee Edusei (Dance/USA), Anne Huang (World Arts West), and Kaisha S. Johnson (Women of Color in the Arts) are BIPOC Executive Directors who are engaged in transforming their organizations, and the arts field, by centering anti-racist and racially equitable practices. This dialogue aims to address, through narrative storytelling of lived experiences, how the philanthropic sector must consider support of leaders of color an imperative as part of its work towards racial equity.
"The Ebb and Flow of Liberatory Practice" a new GIA Reader Guest Editor Series on Liberation
Meena Malik, vocalist, arts consultant, cultural organizer, and GIA Reader guest Editor offers an opening frame for a collective of articles, poetry, music, short films, and artistic practices that each, in their own ways, bring clarity to the questions: What does practicing liberation look like for you? What does liberation look like in process/in practice?
She writes, "I invite you to think of where you are in your life in your relationship to liberation? What is most important to you? What are the powers that you hold? Where are you powerless? We cannot tackle all at once, this massive system of inequity that we have built over generations. So break it down, and see - what do you want to start shifting in your life, in your home, in your work? Where and how do you want to find healing? What needs healing? Find it, and join the movement. Become one of the fractals and join the movement towards collective liberation."
President's Blog: Arts & Culture Interrupting Structural Racism Part 2
GIA President Eddie Torres calls on grantmakers to, "explore how our government interacts with the private sector, including philanthropy," and how we must, "intervene in racialized systems," in the second part of his latest blog. Read the
full post
.
New in the GIA Reader! The Lost Files, a special edition of Fluency w/ Dr. Durell Cooper 
Listen in on this GIA specially commissioned series of Fluency w/ Dr. Durell Cooper, The Lost Files. Dr. Cooper invites artists, researchers, cultural and racial studies experts, and scholars to think about the narratives driving the arts and cultural sector – as it intersects with systems of structural racism and economic exclusion – and what opportunities for narrative change exist.
The fourth and final episode, featuring Dr. Rhianna C. Rogers (Center to Advance Racial Equity Policy), is
now available to stream
.
Join Us for the Black Arts Funders Summit this December
"The history of predominantly White-led institutions benefiting from the disenfranchisement of the Black artist and community is well documented. From slavery to Jim Crow, to post Civil Rights era, to today, Black artists have been continuously excluded from the canon, been wrongly categorized, and historically disregarded as obvious by the egregious lack of Black staff, leadership, and representation at cultural institutions across the nation." - North Carolina Black Artists for Liberation
Grantmaking programs like
NEA Jazz Masters
(1982) and
Advancing Black Arts in Pittsburgh
(1990) continue to thrive amidst decades of challenges both inside and outside of their respective foundations, but across most of the philanthropic field, funders and foundations fail to acknowledge and reconcile their long histories of exclusion, disenfranchisement, and disendowing. This summit asks the question: Beyond the 'difficult conversations' and 'good intentions,' how can institutional grantmaking dollars be used to actively go about change at every level?
Join GIA on December 13, 2022, from 1:00-5:00pm EST for our virtual Black Arts Funding Summit featuring experts across fields and industries who have directly shaped institutional policy and established new practices that support Black liberatory futures.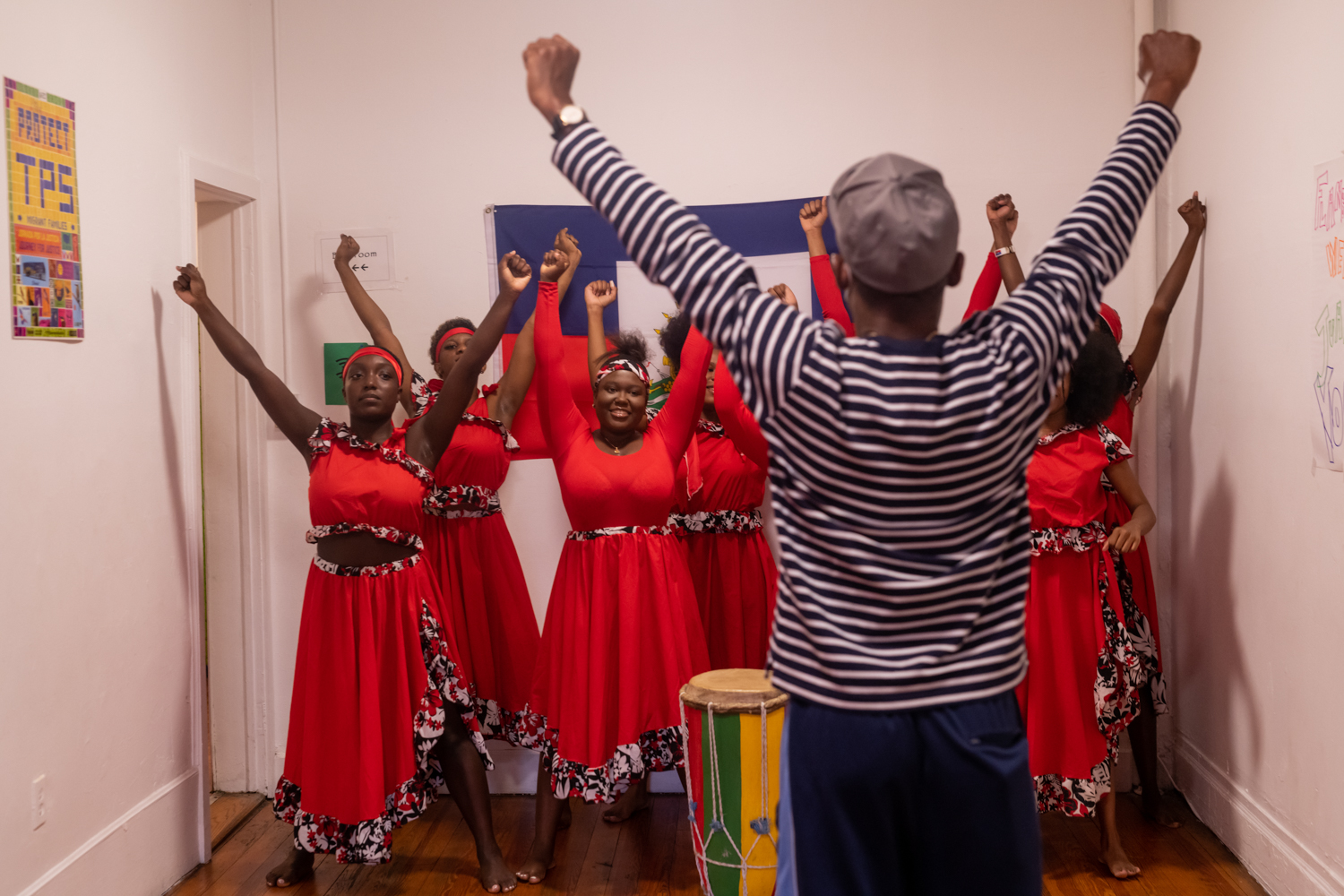 Image courtesy of Creatives Rebuild New York
From Mellon Foundation: "Master carvers are working with the Sealaska Heritage Institute to create the Totem Pole Trail—ten sculptures celebrating Indigenous tribes who had been historically excluded from Juneau's monuments. In a sense, it was a controversial statue of William Seward that kickstarted Kootéeya Deiyí, the Totem Pole Trail in Juneau, Alaska..."
"On Oct. 14, unionized employees at the Philadelphia Museum of Art (PMA) achieved a monumental contract victory with museum management, ending a 19-day strike," said Vanessa Taylor for Prism. "The tentative agreement, which runs through June 30, 2025, raised the hourly minimum wage, reduced health care plan costs, provided across-the-board wage increases and paid parental leave, and instituted the museum's first ever longevity raises. Following this victory, union members are hopeful that their efforts may help reshape the museum industry as a whole..."
From The Art Newspaper: "In the wake of a global pandemic and concurrent worldwide reckoning with institutional racism, two illuminating studies on the state of cultural heritage at large have just been released. The Mellon Foundation's latest "Art Museum Staff Demographic Survey" and the Black Trustee Alliance for Art Museums' "2022 Art Museum Trustee Survey" both itemise and quantify the experiences of art museum workers and board members, painting a picture of a sector slowly bouncing back from significant Covid-19 job losses with a renewed focus on diversity..."
From Filantropía Puerto Rico: Este próximo Giving Tuesday, 29 de noviembre, no te pierdas el primer episodio de nuestro podcast EN VIVO: Somos Filantropía Podcast. En este episodio, Mary Ann Gabino, Vicepresidenta Senior de la Fundación Comunitaria de Puerto Rico, conversará con Glenisse Pagán, Directora Ejecutiva de Filantropía Puerto Rico, para hablar sobre el rol y la importancia del ecosistema filantrópico de nuestra isla...
Join Flannel & Blade and Catnip Comms in an expert panel discussion and open conversation, as we unpack these big and important questions. Our teams are keeping our ears to the ground, reading not only national news outlets, but also the comment sections on TikTok and diving into different subreddits. We're seeing how Twitter users who have taken flight are enjoying their migration to Mastodon to see what we can learn...