A Message from GIA on the Crisis Impacting Puerto Rico
Five years after the devastation of Hurricane Maria, Hurricane Fiona has caused catastrophic destruction in Puerto Rico, killing at least two people and leaving nearly the entire island archipelago without power and water. Below you will find opportunities to lend your support to Puerto Rico.
Post-Maria, the US federal government set aside billions for reconstruction, but communities in Puerto Rico remain vulnerable. Puerto Rico's vulnerability stems from a combination of factors, including the Fiscal Control Board's requirement that Puerto Rico privatize its power grid.
The Fiscal Control Board's oversight of Puerto Rico's budget is an element of the Puerto Rico Oversight, Management, and Economic Stability Act (PROMESA). PROMESA is a US federal law enacted in 2016 that established a US financial oversight board for Puerto Rico, a process for restructuring debt the Puerto Rican government owed to corporate creditors. The FCB's approved fiscal austerity plan for 2017-2026 cut deeply into Puerto Rico's public service budget, including cuts to health care, pensions, and education, in order to prioritize repaying corporate creditors.
Puerto Rico's vulnerability is also rooted in its status as a US territory with no electoral votes for the presidency and no voting representation in Congress. Puerto Rico has an advocate in the U.S. Congress, who has no voting authority. At a Congressional hearing less than a week before Hurricane Fiona, Puerto Rico's non-voting congressional representative questioned the effectiveness of Puerto Rico's privatized electric grid considering its history of poor performance and whether it should even remain in the hands of a private company.
Grantmakers in the Arts joins friends across the nation in a call for our federal government to cancel Puerto Rico's debt and end private oversight of its budget to ensure that Puerto Rico may recover in the spirit of self-determination.
Thank you, Sylvia Jung!
We want to thank our Senior Development Manager, Sylvia Jung, for her incredible work and dedication to GIA. Sylvia has been a part of our team since January 2018, and we wish her luck as she assumes her new role as The Development Office at Third Wave Fund.
Previously, she served in development roles at Ballet Hispanico, Damon Runyon Cancer Research Foundation, Neighborhood Coalition for Shelter, and The New York Foundling. Sylvia is a longtime crisis hotline volunteer with the New York City Anti-Violence Project, butler to two rescue cats, and is proudly 100% a product of New York City public education.
Thank you, Sylvia!
2022 GIA Conference In-Person Registration Closed
2022 GIA Conference Schedule Online
The
full list of sessions
for the 2022 GIA Conference: Converge/Transform is now available online. This year's conference features over 40 sessions ranging across a diverse array of topics within GIA's focus areas and others including racial equity, cross-sector work, funding collaborations, placekeeping, and impact investing.
Future of the Field: From the GIA Reader
In the latest installment from the GIA Future of the Field series – reflecting and responding to ArtPlace America's "13 Ways That Arts and Culture Can Support Equitable Community Development" – we invited a new round of responses to continue the spirit of debate, ideas, and dialogue around the future of arts and community development.
This week we highlight Rethinking on Arts and Community Development by Pamela Bridgeforth (Philadelphia Association of Community Development Corporations) who discusses ArtPlace America's collective work in the space of arts and community. "For the impressive compendium of ArtPlace knowledge assembled to have impact in this new moment of our time, we will need more intentionality around sharing the research and its recommendations with others—practitioners, community leaders, and policy makers–learning from new insights, and building on those insights for truly meaningful equitable community advancement." Read
the full piece
.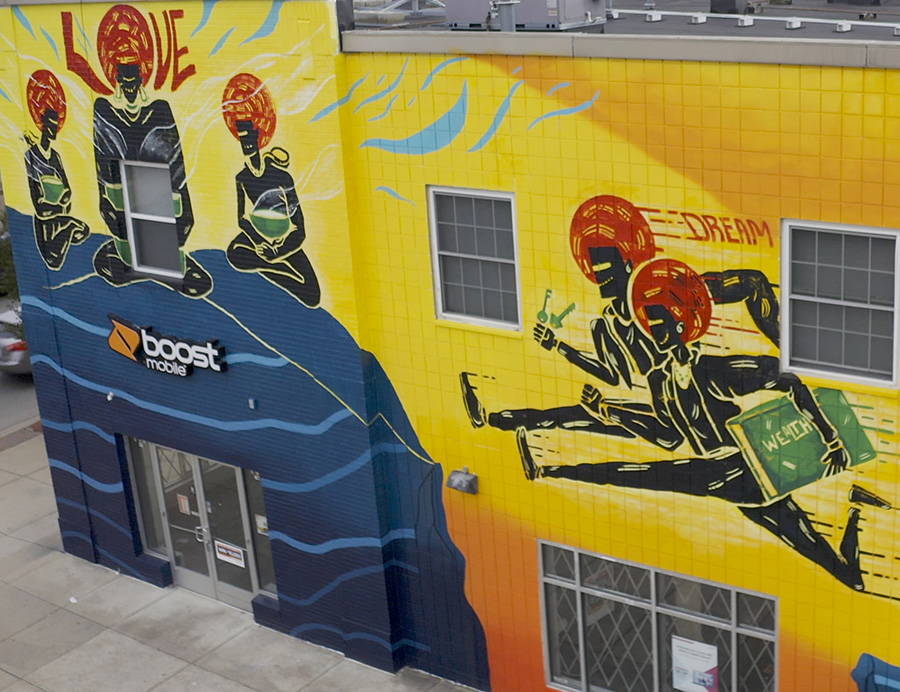 Image courtesy of The Frey Foundation
"Philanthropy is no stranger to the ways that ableism is deeply embedded in the perceptions and treatment of disabled people. Historically, many charitable foundations have solicited or made donations intending to 'cure' disabled people, based on the so-called 'medical model' of disability," said Sandy Ho and Jen Bokoff for Stanford Social Innovation Review"…
"The Jerome Foundation today announces that earlier this year President Ben Cameron shared his intention of retiring early in 2023 and that a search for his successor has now begun. The Foundation has chosen Korn Ferry, the global organizational consulting firm, to lead this process." Cameron was also a former GIA Board Member"…
Five years after the devastation of Hurricane Maria, Hurricane Fiona has caused catastrophic destruction in Puerto Rico, killing at least two people and leaving nearly the entire island archipelago without power and water. Below you will find opportunities to lend your support to Puerto Rico…
"Remember, this was before TV, and just as radio was getting off the ground. Film productions were novelty shorts in a world of vaudeville and live theatre, musicals, opera, and dance," said M L Clark for Only Sky Media. "So how did one make money as a creator? Well, in part through royalties off live performance, and in part by selling the music directly, to a market of households that usually had at least one person who could play an instrument or sing"…
"Borealis Philanthropy is pleased to announce the Request for Proposals (RFP) for the Black-led Movement Fund's (BLMF) first year of participatory grantmaking. This announcement includes background information about the BLMF and important details about how to apply for funding"…