2023 Support for Individual Artists Committee: Call for Interest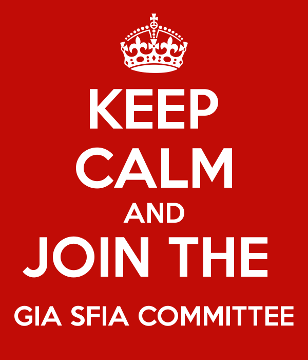 The Support for Individual Artists Committee of Grantmakers in the Arts seeks individuals to serve on the Committee. The Committee comprises up to twenty GIA members in good standing, representing a spectrum of grantmakers who personally believe in the importance of supporting individual artists. The Committee meets monthly on the last Thursday of every month. These switch between business and voluntary peer-to-peer "hive mind" meetings.
Committee members may serve up to two (2) three-year terms and a required year off the committee after six years of service. Co-chairs serve staggered, two-year terms.
To express interest in joining the committee or to suggest a colleague, please
complete this form by Tuesday, December 20, 2022.
December/January Member Spotlight
During the months of December and January, our Member Spotlight features Thomas S. Kenan Institute for the Arts. The Thomas S. Kenan Institute for the Arts was established in 1993 to strengthen the arts by initiating and incubating new ideas within the various constituencies and settings of the University of North Carolina School of the Arts (UNCSA). Regionally and nationally, the Kenan Institute collaborates with artists and partners with cultural organizations to advance the creative community. The Institute has been a GIA member for more than 25 years. Throughout its 30-year history, the Kenan Institute has developed programs and provided funding to support arts in education, career opportunities for creatives, research on cultural policy, and the role of arts in society.
Learn about their work
.
2022 Individual Artist Preconference Recap Podcast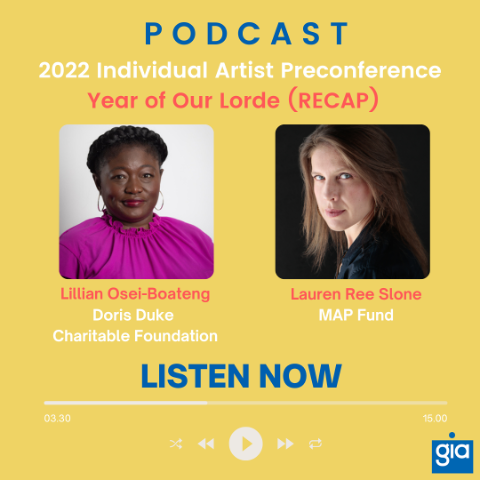 In this podcast, we are revisiting the 2022 Individual Artist preconference,
The Year of Our Lorde
. Taking place on October 9, 2022, funders in support of individual artists travelled from across the country to convene at Gibney Dance Studio in New York City. Their goal was to discuss the needs of individual artists and how funders can support them better in the context of mental health and wellness. They asked themselves whether mental health and healthcare is a priority in funding, and whether the philanthropic sector is overlooking the needs of, and/or romanticizing, the struggle of artists.
We are joined by Lillian Osei-Boateng, program manager, Arts, Doris Duke Charitable Foundation, GIA Support for Individual Artists Committee member and lead hive organizer, and Lauren Ree Slone, director of grants and research at the MAP Fund, GIA Support for Individual Artists Committee member and Committee co-chair. They will provide a recap of the day, some of their hot-takes, and what they hope you will continue engaging in dialogue around.
The GIA Board Takes to Puerto Rico
On November 30 through December 1, 2022, the GIA board took to Puerto Rico for the final days of learning, and the last board meeting of the year. They spent their time with AgitArte and local artists, making stops at Corredor Afro, Santurce, Corporación Piñones Se Integra (COPI), and more!
The GIA board and team are feeling grateful as we wrap up another incredible year.
Join Us for the Black Arts Funders Summit December 13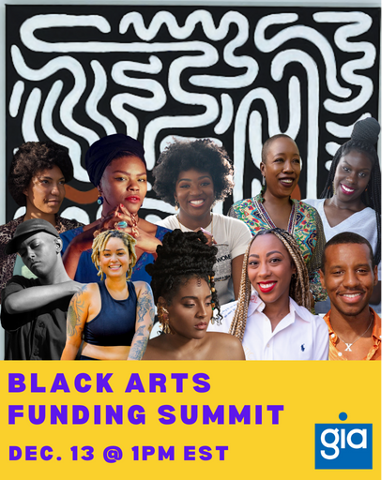 "The history of predominantly White-led institutions benefiting from the disenfranchisement of the Black artist and community is well documented. From slavery to Jim Crow, to post Civil Rights era, to today, Black artists have been continuously excluded from the canon, been wrongly categorized, and historically disregarded as obvious by the egregious lack of Black staff, leadership, and representation at cultural institutions across the nation." - North Carolina Black Artists for Liberation
Grantmaking programs like
NEA Jazz Masters
(1982) and
Advancing Black Arts in Pittsburgh
(1990) continue to thrive amidst decades of challenges both inside and outside of their respective foundations, but across most of the philanthropic field, funders and foundations fail to acknowledge and reconcile their long histories of exclusion, disenfranchisement, and disendowing. This summit asks the question: Beyond the 'difficult conversations' and 'good intentions,' how can institutional grantmaking dollars be used to actively go about change at every level?
Join GIA on December 13, 2022, from 1:00-5:00pm EST for our virtual Black Arts Funding Summit featuring experts across fields and industries who have directly shaped institutional policy and established new practices that support Black liberatory futures.
Photo Courtesy: Thomas S. Kenan Institute for the Arts | Credit: Owens Daniels Photography
"Recovering from the worst days of the pandemic has been daunting for America's 1,800 regional theaters. But some, thanks to philanthropic help, are using this moment as an opportunity for reinvention," said Neda Ulaby for NPR. "Take, for example, Penumbra Theatre in St. Paul, Minn., which is grounded in a historically African-American neighborhood with aesthetic roots in the Black Arts Movement. Since Penumbra started staging plays in the early 1970s, it's developed a national reputation for growing Black talent that's changed theater worldwide..."
From Common Field: "As a national network, Common Field served as a catalyst for work happening on the ground by increasing access and sharing of resources across regions. As we come to the end of our time as an organization, we are reflecting not only on the life of Common Field, but also on the future that lies ahead for our work and communities. When Common Field decided to close, we wanted to commit to a process that would leave the field with tools to shape the possibilities ahead. And with that in mind, we are so pleased to share our final two sunset initiatives with you..."
From Common Field: "The Los Angeles Contemporary Archive (LACA) and Common Field are glad to invite you to join us on the arrival of the Common Field archival collection at LACA. Common Field has worked to support a nation-wide network of independent artists and arts organizations. Following an organizational audit and an internal financial survey process in 2021, Common Field announced its decision to intentionally sunset, or close, as an organization in 2022..."
From CNN: "In the United States, we are now treated to regular announcements about benevolent billionaires pledging to share their wealth. Amazon founder Jeff Bezos, for instance, recently told CNN that he would be giving away the majority of his $124 billion fortune in his lifetime. Further back in 2015, Meta founder and CEO Mark Zuckerberg announced he would give away what he makes from 99% of his Facebook shares..."
From Upstart Co-Lab: "Impact investors have been missing the 5% of the U.S. economy comprised of creative industries including film & TV, video games and fashion. Museums and cultural institutions are lagging foundations and universities in aligning their endowments with values and mission. This session will highlight strategies to invest in the creative economy that drive financial inclusion and quality jobs, and demonstrate how cultural institutions can align their endowments with their role as community anchor institutions..."