Closing Keynote from Jawole Willa Jo Zollar
Jawole Willa Jo Zollar (Founder/Visioning Partner) from Kansas City, Missouri, Jawole Willa Jo Zollar trained with Joseph Stevenson, a student of the legendary Katherine Dunham. After earning her B.A. in dance from the University of Missouri at Kansas City, she received her M.F.A. in dance from Florida State University. In 1980 Jawole moved to New York City to study with Dianne McIntyre at Sounds in Motion. In 1984, Jawole founded Urban Bush Women (UBW) as a performance ensemble dedicated to exploring the use of cultural expression as a catalyst for social change. Her company has toured five continents and has performed at venues including Brooklyn Academy of Music, Lincoln Center for the Performing Arts and The Kennedy Center. UBW was selected as one of three U.S. dance companies to inaugurate a cultural diplomacy program for the U.S. Department of State in 2010.
2022 Conference Registration closes Monday, September 26
The conference is almost here! The GIA team is eagerly preparing to make this the best comeback yet! Don't miss out! Be sure to register asap. Registration for the in-person track will close on Monday, September 26 at 11:59pm EDT.
Register
today! Registration for the virtual track will remain open until October 5.
GIA Seeks Senior Manager of Development and Membership
Grantmakers in the Arts (GIA) is seeking a Senior Manager for Development and Membership to join its team headquartered in the Bronx, New York. The position can be remote or hybrid, with - occasional travel required. The Senior Manager for Development & Membership is responsible for planning and implementing resource development strategies conducive to the growth, and development of a national membership organization serving U.S. philanthropic institutions, non-profits, advocates, and public agencies that provide support for arts and culture.
This is a full-time (40 hours per week) non-exempt position with occasional after-hours, weekend work, and travel required. Grantmakers in the Arts intentionally considers candidates from historically underrepresented communities including Asian, Latinx, African, Arab and Native American (ALAANA) people, people with disabilities, and other marginalized communities.
Salary: $80,000-85,000 dependent on experience. A comprehensive benefits package includes paid vacation and wellness days, insurance, and 401(k) plan. Not sure if you meet our desired qualifications? If you believe that you will excel in this role, we encourage you to apply. Candidates should e-mail a cover letter and resume to Jobs@GIArts.org with the subject line: Senior Manager for Development and Membership. PLEASE no phone calls.
Future of the Field: From the GIA Reader
In the latest installment from the GIA Future of the Field series – reflecting and responding to ArtPlace America's "13 Ways That Arts and Culture Can Support Equitable Community Development" – we invited a new round of responses to continue the spirit of debate, ideas, and dialogue around the future of arts and community development.
This week we highlight
Finding a Common
Cause by The Rev. Dr. Lynn Osgood (Civic Arts) who discusses the Creative Grantmaking Research Tool whose, "concise visuals and clear language calls out physical, social, and systemic levels of impact that, combined, create a framework that helps artists, engineers, planners, developers, community members, culture-bearers, elected officials, and all the other myriad characters who pop up in community projects, to gather around clear and common causes." Read the
full piece
.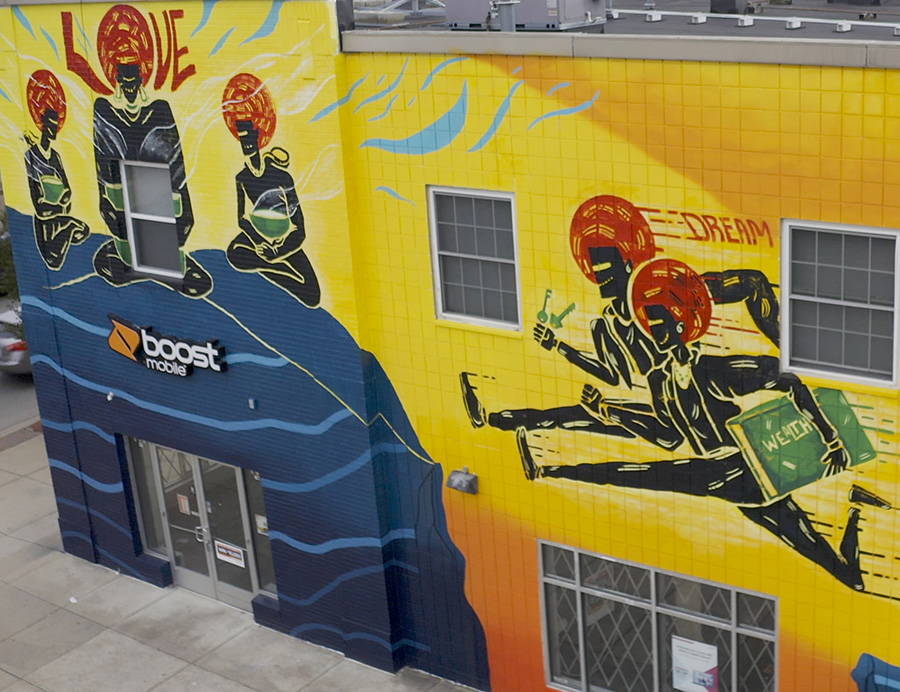 Image courtesy of The Frey Foundation
"Groundbreaking ballerina Misty Copeland announced today the launch of The Misty Copeland Foundation (MCF), a new non-profit organization that aims to bring greater diversity, equity, and inclusion to dance, especially ballet"…
"Today the Sogorea Te' Land Trust and the City of Oakland announced plans to return approximately five acres of land owned by the City to Indigenous stewardship"…
"Artists from across the state have come together in this small southwest Texas town to honor the 19 students and two teachers killed in late May at Robb Elementary School. They've painted giant portraits of each victim with the hope of helping the community heal"…
"From Tooshar Swain for AFTA's ARTS blog, "National Arts in Education Week is upon us, and it is a wonderful time to reflect on where arts education has been and where it can go with impassioned arts advocacy"…
"VermontBiz Creative Futures Grants, with $9 million in funding from Vermont's last legislative session, will be available beginning Thursday, Sept. 15, to help the creative sector recover from economic losses due to the pandemic"…
"Artnet News author Folasade Ologundudu is conducting a four-part series, "featuring Black artists across generations who work with social practice." The first interview in the series is with Linda Goode Bryant"…