Dr. María Rosario Jackson at the 2022 GIA Conference
For more than 25 years, Dr. María Rosario Jackson's work has focused on understanding and elevating arts, culture, and design as critical elements of healthy communities. Her work blends social science and arts- and humanities-based approaches to comprehensive community revitalization, systems change, the dynamics of race and ethnicity, and the roles of arts and culture in communities. After confirmation by the U.S. Senate in December 2021, Dr. Jackson became the 13th chair of the National Endowment for the Arts in January 2022. With this historic appointment, Dr. Jackson is the nation's first NEA chair to be an African American and Mexican American woman.
Dr. Jackson has a long career in strategic planning, policy research and evaluation with philanthropy, government, and nonprofit organizations. She has served as an advisor on philanthropic programs and investments at national, regional, and local foundations.
A graduate of the University of California, Los Angeles (UCLA) with a doctorate in urban planning, Dr. Jackson holds a master of public administration degree from the University of Southern California. She lived in Washington, DC for 20 years and currently resides in her native Los Angeles with her husband, David K. Riddick, and in Phoenix, Arizona.
Learn more about the 2022 GIA Conference: Converge/Transform and how to register
here
.
Webinar Today! Participatory Grantmaking and Cultural Funding
Arts Funders Sharing Power: Participatory Grantmaking and Our Field
Tuesday, August 23 at 11am PDT | 2pm EDT
The grantmaking sector, particularly funders focused on justice and liberation, seek ways to support and partner with committees that are overlooked, underserved, and undervalued. While this is not a new concept, we are encouraged to see more funders discuss how and why they are leaning into participatory grantmaking as a strategy to further this aim while examining questions of who can activate power around resource distribution.
Join us to hear Geoffrey Banks (John D. and Catherine T. MacArthur Foundation), Vu Le (Nonprofit AF), and Celeste Smith (The Pittsburg Foundation) discuss not only the programs they are implementing and have piloted to keep participatory grantmaking practices at the forefront of their operations, but also the ways their work is serving to shift narratives around funding strategies and partnership.
Learn more and register here
.
Black August: From the GIA Reader
Throughout the month, we invite you to explore Black artists and philanthropists' responses to the question:
How can cultural grantmaking interrupt institutional and structural racism while building a more just funding ecosystem that prioritizes Black communities, organizations, and artists?
This week we highlight
Behind the Mask: The Inner Life of a Black Grantmaker
by Courtenay Aja Barton, senior manager for Racial Equity and Workforce (The Allstate Foundation), who calls upon grantmakers to acknowledge the needs of Black folks working within philanthrophic and grantmaking spaces. "Am I doing enough? More often than not, the people say no. (More often than not, I agree.) Am I doing too much? How very often the institutions say yes. (How very often my health says yes.)"
Read the full piece here
.
Join us for the next Cultural Policy Action Lab Public Learning Series
Individual Artist Development
Wednesday, August 31 at 11am PDT | 2pm EDT
Fellowships, grants and professional development programs are common policy frames in many state and local arts agencies. Public policy generally, and cultural policy specifically, has historically supported institutions vs individuals. Join CAIR Lab in an exploration of how models are emerging to support individual artists, and how that has contributed to more equitable communities.
Learn more and register here
.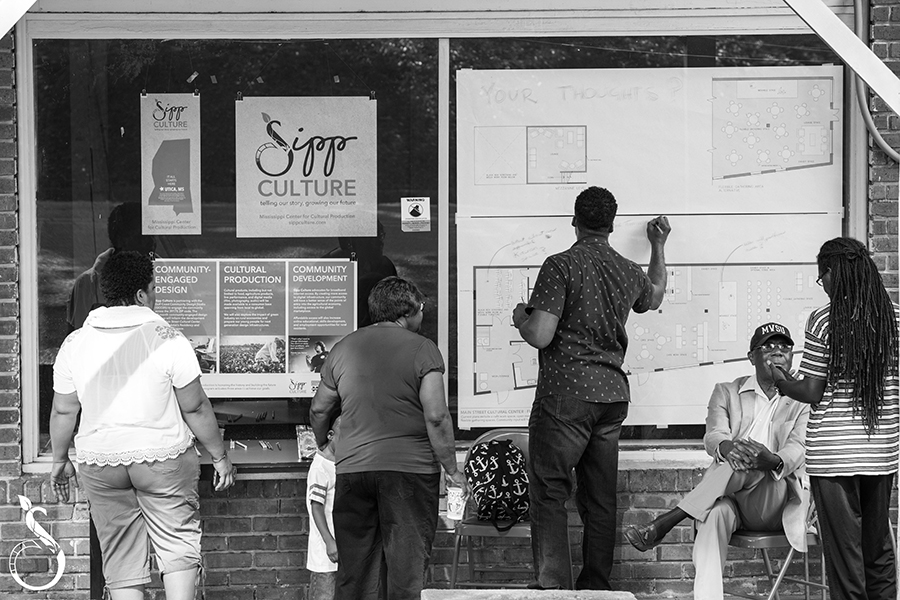 Photo by Griff Griffin / Mississippi Center for Cultural Production
"If you are reading this, you've crossed the digital divide. One in two people on the planet have not," said Chris Worman for Alliance Magazine. "You can take advantage of an increasing array of digital products and services. Unconnected families cannot; and they are falling behind as work, education, healthcare, civic participation, and access to services provided by your grantees, are increasingly moving online"…
"Black women philanthropists are essential to the growth of the philanthropic space and yet are often sidelined," said Ophelia Akanjo for Nonprofit Quarterly. "Seemingly, some of the core guiding principles responsible for their philanthropic activism include community building and advancement, leveraging access and equity, religion and faith, and sparking change within their communities and beyond"…
"Senate Bill 681 was signed into law in July 2020, officially creating an arts high school graduation requirement in North Carolina. This graduation requirement begins this school year with entering sixth grade students," said Caroline Parker for EducationNC. "All 50 states and the District of Columbia have content or performance standards for arts education, but only 32 define the arts as a core or academic subject, according to the The Arts Education Partnership"…
"A Contemporary Theatre — Seattle's ACT company — has announced that its entire board of trustees has voluntarily stepped down," said author Mike Davis for KUOW. "The only exceptions are three positions required by law — the chair, secretary, and treasurer"…
From Funding for Real Change: Over the course of the pandemic, more than 60 percent of foundations loosened restrictions and lightened reporting for grants. Now is the time to normalize good grantmaking practices across the sector and to ensure that civil society organizations & social movements are not deprived of the resources they need. Project-based giving doesn't have to put organizations in a straitjacket – it can be done in a more flexible and equitable wayg…
From Open Society Foundations: "This discussion about the restitution of Ngonnso to the Nso community, hosted by the Open Society Foundations Global Initiative for the Restitution of African Cultural Heritage and Open Society grantee SySy House of Fame, features African cultural heritage activist Sylvie Njobati and researcher María Leonor Pérez Ramírez"…