Grantmakers in the Arts' Newest Members
Announcing the New GIA Reader!
Why We Went Digital?
Entering a new era in arts publication.
When we began to plan the 2020 season of the GIA
Reader
, we quickly realized our usual approach wasn't going to cut it: our members were working from home, routines had been interrupted, and people weren't engaging with things in the same ways.
We knew we needed to make changes, so we refocused on the purpose of the
Reader
— to foster a space of learning in pursuit of both responsive and
long-term
transformation in the sector.
With that goal in mind, we're excited to announce the launch of the new, digital GIA
Reader
, designed to reach our entire
community
: arts grantmakers, culture bearers, artists, and anyone advocating for a more just field and future.
Thank you for being here with us — there's lots to do.
Explore the new, digital publication
!
Join us for the next Cultural Policy Action Lab Public Learning Series
Infrastructure, Placemaking & Placekeeping
Wednesday, July 6 at 11am PDT | 2pm EDT
Public infrastructure that supports creative activation such as cultural facilities and districts are central to authentic belonging in place. Join David Holland (Western States Arts Federation), and Cezanne Charles (rootoftwo) to unpack how policy making often focuses solely on a narrow understanding of "infrastructure" and leaves out other vital conditions like digital access, safety and transportation access, and informal social infrastructures that facilitate community power and wellness. This session will examine new frameworks to consider building more equitable infrastructure policies.
Register for upcoming sessions here
.
Register for the 2022 GIA Conference Converge/Transform!
Grantmakers in the Arts is thrilled to welcome you back to New York City– occupied Munsee Lenape, Wappinger, Canarsie, Lekawe, and Matinecock lands and hometown to GIA since 2018– for our first in-person conference since 2019! We believe the vibrance and creativity of the people of NYC keep us feeling, dreaming, and fighting for new futures. What can we make possible by gathering, attending to both grief and joy, and committed to moving forward together?
Join us October 6-12 as we reunite to reimagine the present and the future of arts and culture, featuring over 40 sessions as well as inspiring keynote presentations and performances. All GIA members are eligible for discounted conference registration. Be sure to take advantage of the early bird rate.
Visit the conference website to register
.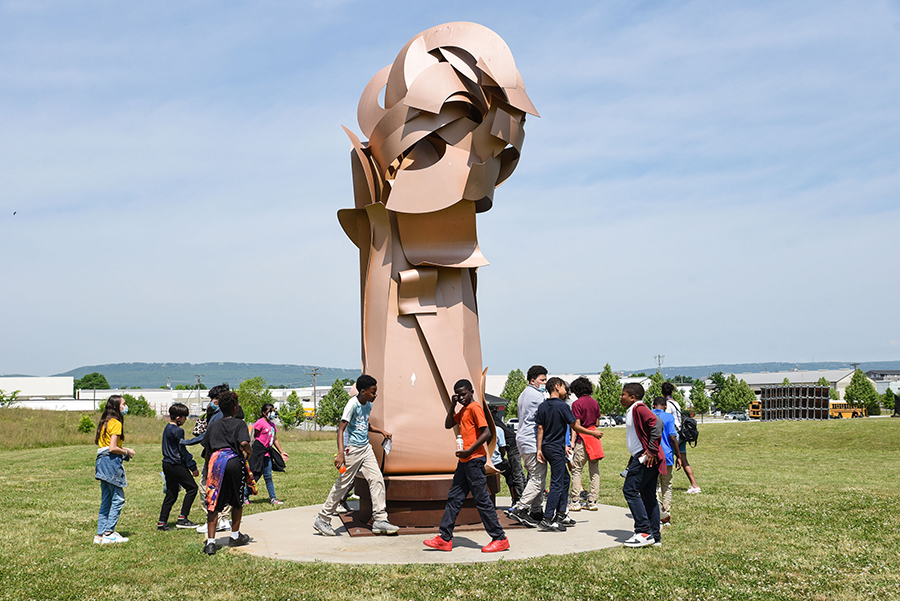 Image courtesy of ArtsBuild.
From author Vu for Nonprofit AF: "Justice has been dealt a significant blow. Many of us are distraught, wondering how we can continue when an unceasing barrage of death and violence continues raining down on our communities day after day…
"The anemic California polling numbers for this past primary election (12 percent of the population voted) don't bode well for the fall, but there is a long-sought arts initiative on the Nov. 8 ballot," said author Michael Zwiebach for Classical Voice…
"Google's first-ever Image Equity Fellowship is a 6-month, application-based Fellowship awarded to 20 early-career image-based creators of color in the US. Selected Fellows will receive $20,000 in unrestricted funds to create an image-based project that explores and uplifts community(ies) of color with care and nuance"…
From TED: "Famed for enormous black-and-white portraits that are pasted on surfaces ranging from the Louvre to the US-Mexico border wall, multimedia artist JR continues to tackle ambitious projects. In this powerfully moving talk, he shares how he made a giant mural on the courtyard floor of a maximum-security prison—with the help of guards and prisoners alike—and ended up with much more than a compelling image"…
From the Mellon Foundation, "How can the arts unify racially divided communities? Finding answers to that question was central to the founding mission of Asian Arts Initiative, a multidisciplinary arts center in Philadelphia that supports Asian American creatives and cultivates meaningful ways for them to connect with local communities"…