Grantmakers in the Arts' Newest Member
Tomorrow! Cultural Policy Action Lab Public Learning Series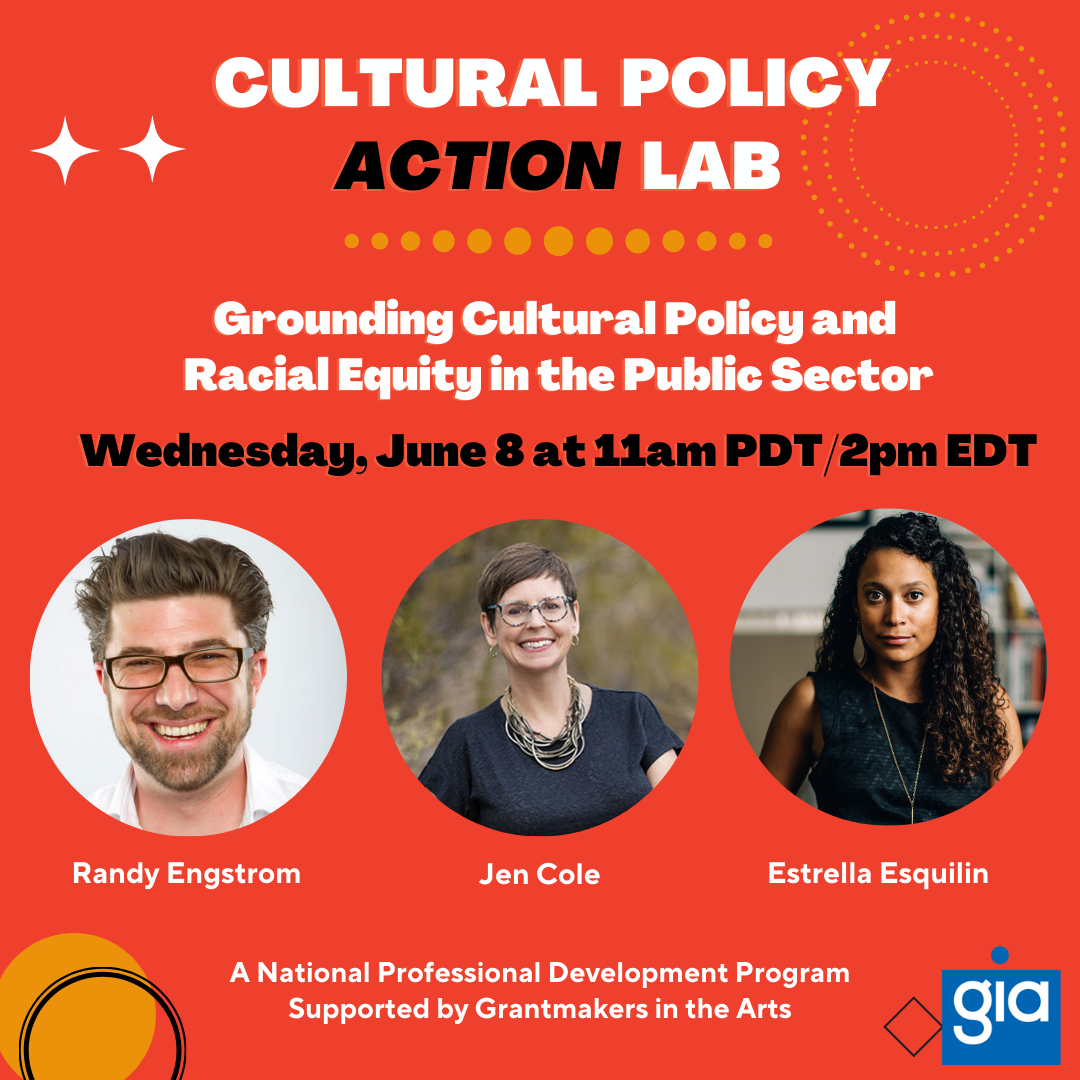 Session 1: Grounding Cultural Policy & Racial Equity in the Public Sector
Wednesday, June 8 at 11am PDT | 2pm EDT
Join us for the first Cultural Policy Action Lab Learning Series! This session will outline the most common policy mechanisms for arts & culture in the public sector with a lens on how these tools have historically reinforced inequity. Join Randy Engstrom, Jen Cole, and Estrella Esquilin to explore case studies and examples from leaders in the field who have reframed common public policies like cultural plans and cultural space planning with a lens toward belonging, self-determination, and community wealth building.
Be sure to register here for tomorrow's session
.
Join GIA at Listen, Learn, Connect: Media Impact Funders Webinar
Tuesday, June 14 at 10am PDT | 1pm EDT
Join Media Impact Funders and Grantmakers in the Arts for a panel discussion on pandemic-era shifts to digital programming among arts and cultural organizations. GIA President & CEO Eddie Torres will be moderating this virtual conversation, which celebrates the release of a new report commissioned by the Wyncote Foundation and provides a chance to hear from three leaders expanding their work in the digital realm.
Register here
.
GIA is Seeking Web Consultant
Grantmakers in the Arts seeks a consulting partner for a combination of one-time design work, staff training, and ongoing development and maintenance work on our Drupal-based website, the registration forms, and member emails that interact with our Civi Customer Relationship Management database.
See the Request for Proposal and how to submit
here
.
Image: Jaime Smialek.
"This commitment was made in the wake of Covid and Black Lives Matter. And to date, there have been no answers to the question," said Arts Professional UK author Kevin Osborne. "Two years on, as life moves to a post-Covid norm and memories of the killing of George Floyd fade, ACE's commitment to increased racial equity is being severely tested"…
"It's no coincidence that every administrative arts worker I know is burnt out," said author Benjamin Akio Kimitch. "We all know how hard and underpaid the work is, but we want to make our own contributions to the community that inspires us, so when we imagine making a change, our dreams are generally about the devil we know"…
On May 12, Equity, "published a global scoping review of 111 academic studies related to mental health and wellbeing in students and professionals within the performing arts. This landmark study was commissioned by Equity. It's launched alongside a new Mental Health Charter at a panel event to mark Mental Health Awareness Week"…
"Join Submittable with philanthropy leader Storme Gray in a discussion about how emerging social impact leaders can unlock the right doors and keep them open." "What do emerging leaders in philanthropy need to succeed? And what can current leadership learn from the up-and-coming generation?"…