Join us TODAY for the Disability Justice for Individual Artists: Cap, SNAP, Solution Webinar
Tuesday, May 31 at 11am PDT | 2pm EDT
Join us on Tuesday, May 31 for a continued conversation about disability justice and arts funding. We'll be joined by Revecca Torres (BACKBONES), Laura Poppiti (Center for Cultural Innovation), and Alex Nock (Penn Hill Group) who will build on the conversation from our 2021 webinar on disability justice, which offered discussion on best practices when funding and supporting artists with disabilities. As the sector continues to develop and pivot towards transformational change, we were reminded that our work must be "guided by those most impacted by systems of oppression." But we know that change can only be as transformational as policy and federal law will allow.
Learn more and register here
.
Join us at the Cultural Policy Action Lab Public Learning Series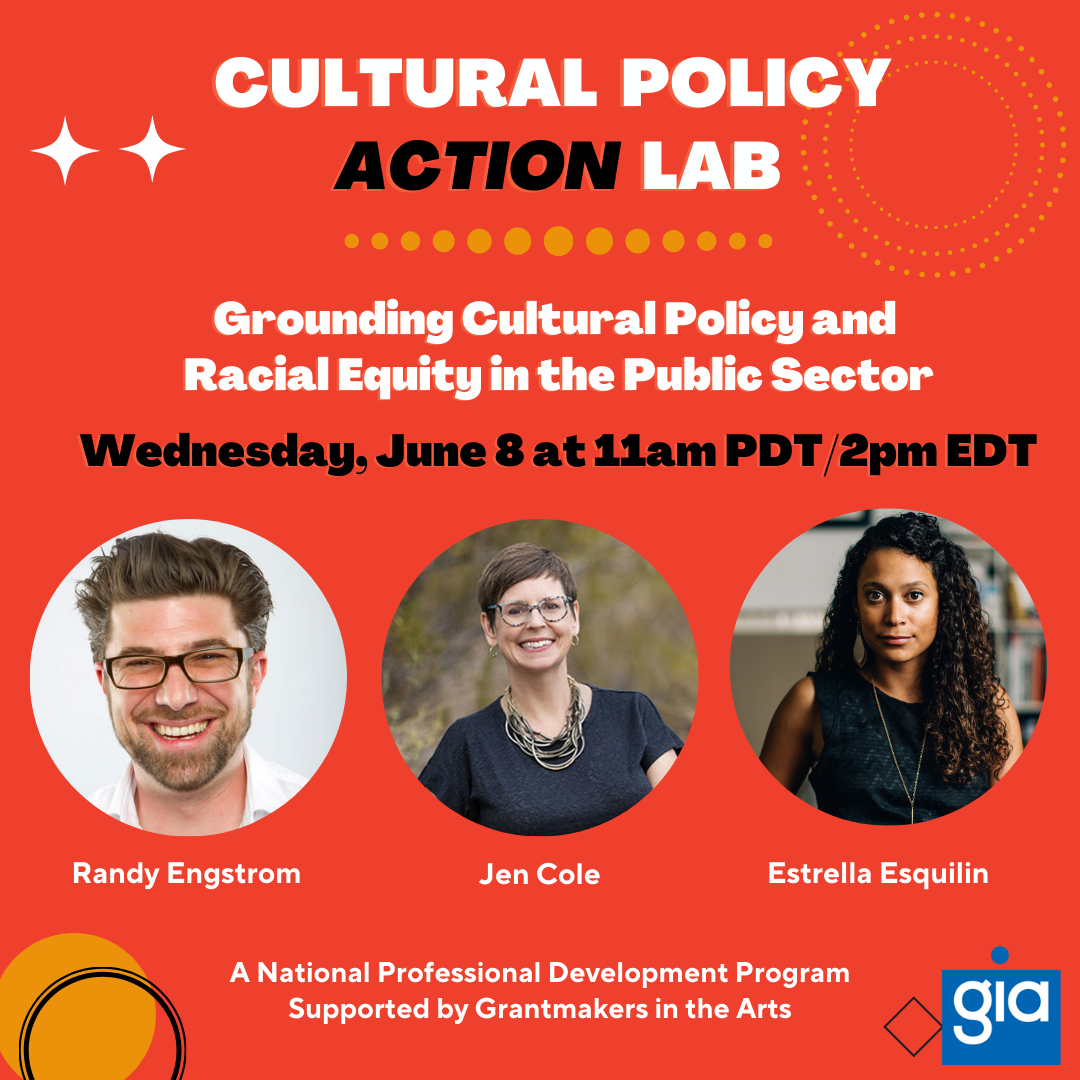 Grounding Cultural Policy & Racial Equity in the Public Sector
Wednesday, June 8 at 11am PDT | 2pm EDT
Join us for the first Cultural Policy Action Lab Learning Series! This session will outline the most common policy mechanisms for arts & culture in the public sector with a lens on how these tools have historically reinforced inequity. Join Randy Engstrom, Jen Cole, and Estrella Esquilin to explore case studies and examples from leaders in the field who have reframed common public policies like cultural plans and cultural space planning with a lens toward belonging, self-determination, and community wealth building.
Learn more and register here
.
GIA is Seeking Web Consultant
Grantmakers in the Arts seeks a consulting partner for a combination of one-time design work, staff training, and ongoing development and maintenance work on our Drupal-based website, the registration forms, and member emails that interact with our Civi Customer Relationship Management database.
See the Request for Proposal and how to submit
here
.
Image courtesy San Antonio Area Foundation.
From the Wallace Foundation: "As a part of The Wallace Foundation's five-year initiative intended to support arts organizations rooted in communities of color as they explore strategies for achieving organizational resilience (ability to adapt and thrive) while retaining their relevance (mattering to their communities), the Foundation invites arts service organizations serving and prioritizing such arts organizations to propose research projects that answer important questions related to the arts communities they serve.…
"Organized philanthropy, like most things, looks different on the inside than it does from the outside," said author Nicholas Lemann in a recent article for the New Yorker. "'Philanthropy' comes from the Greek for 'love of humanity,' and public perceptions of it have usually centered on donors and how humanity-loving they really are. The good guys are generous rich people who give to causes we all approve of, like combatting climate change; the bad guys give in order to launder their reputations (like the opioid-promoting Sackler family) or to advance unsavory goals (like the anti-environmentalist Kochs). Either way, the salient questions about philanthropy, for most people, have to do with the size and the quality of a donor's heart and soul"…
Authors Aja Couchois Duncan and Kad Smith explore how, "in our nonprofit sector, we are often confronted with making sense of the widespread translatability of cultural moments and forces. We don't have to look far to see how cancel culture informs the way in which we experience everyday interactions on the Internet and in real life." How can we separate ourselves from toxicity, and bring healing instead?…