Supporting BIPOC Executive Leadership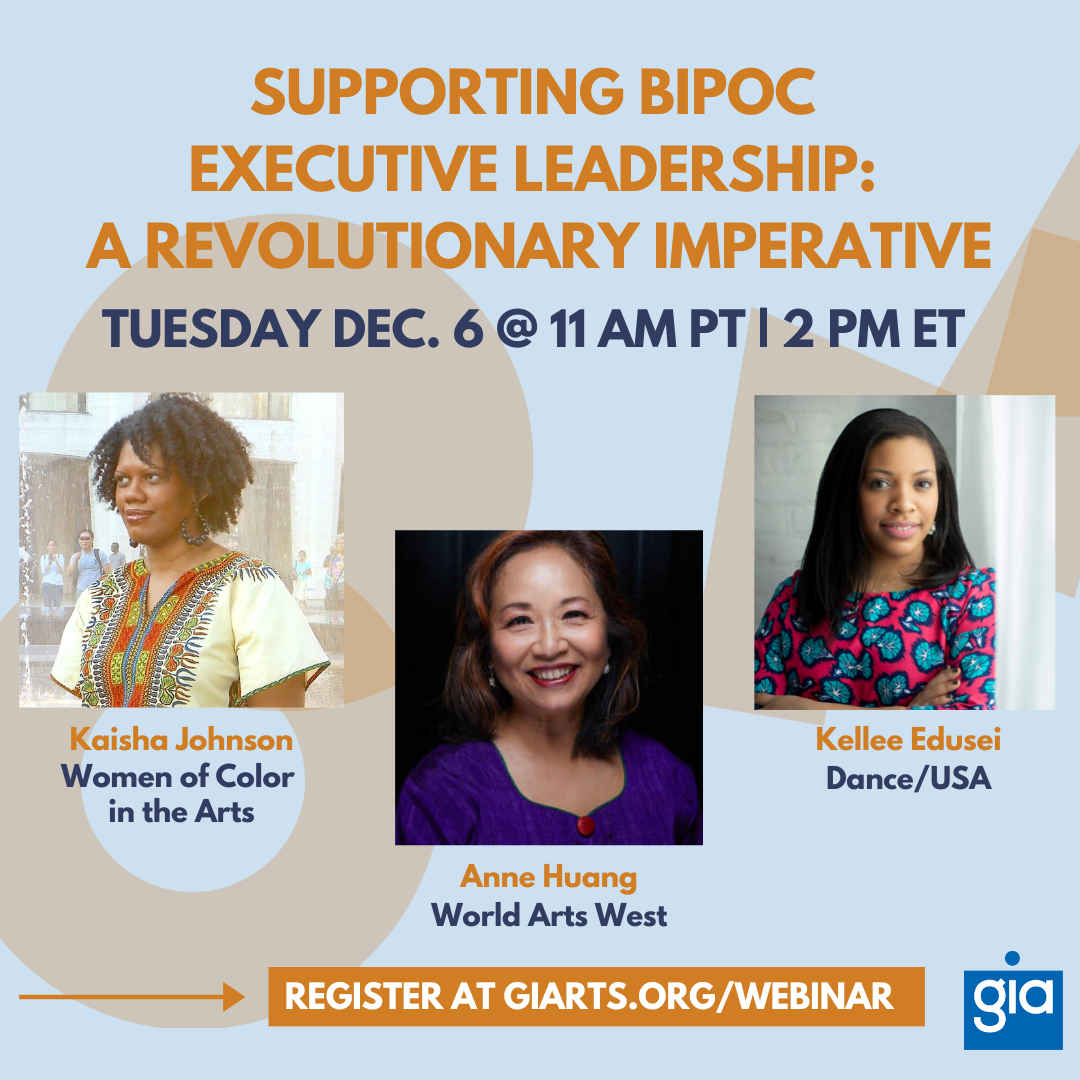 Session 6 of the 2022 Webinar Series.
A recording of this presentation is available here.
In the wake of 2020's racial upheavals, many predominately and historically white institutions began to hire BIPOC (Black, Indigenous, People of Color) to serve in executive leadership roles. Those organizations that successfully hired BIPOC Executive Directors (EDs) were frequently viewed as the most revolutionary, transformative, and inspiring within the field. Yet structural and systemic challenges rooted in White supremacy, racism, and sexism – particularly impactful for women of color – consistently prevented BIPOC EDs from doing their jobs or even living out the terms of their contract. In this session, we begin to unpack the questions: "How do we mitigate the negative experiences leaders of color face when charged to lead historically white organizations? How do we support executive leaders of color – physically, emotionally, and financially - within systems that consistently fail to provide the resources they need for success? What are some tangible steps to support and help retain BIPOC EDs before and during the recruitment and hiring process, throughout onboarding, and beyond? How do we help BIPOC executive leaders at historically White institutions thrive?"

Join us on December 6, 2022, at 2p EST/11a PST to hear from Kellee Edusei (Dance/USA), Anne Huang (World Arts West), and Kaisha S. Johnson (Women of Color in the Arts), BIPOC Executive Directors, who are engaged in transforming their organizations and the arts field by centering anti-racist and racially equitable practices. This dialogue aims to address, through narrative storytelling of lived experiences, how the philanthropic sector must consider support of leaders of color an imperative as part of its work towards racial equity.

Live captioning will be available in English throughout the webinar. For additional accommodation requests, please contact GIA Senior Program Manager, Sherylynn Sealy, at least three (3) business days prior to the event.
Speaker Bios
Kellee Edusei
Executive Director
Dance/USA
Kellee Edusei became the Executive Director of Dance/USA in 2021. She joined Dance/USA in the fall of 2008 as the organization's Office Manager and Board Liaison and was promoted to Director of Member Services in the spring of 2009, maintaining her work as Board Liaison until 2019.
During her time at Dance/USA, Edusei designed and implemented the Membership Fellowship giving an early career arts administrator an opportunity to hone their skills; the "Special Membership Package," a recruitment campaign that surpassed goal and engaged the entire Dance/USA Board and team in the process; and a new revenue stream by maximizing Dance/USA's monthly Bulletin. She was part of the initial program design of Dance/USA's Dance Business Bootcamp, a program for dance artists working with budgets of $200,000 and below.
She has served as a grants panelist for the Arts and Humanities Council of Montgomery County (MD), Alternate Roots (GA), and the Department of Cultural Affairs and Special Events (IL).
Edusei currently serves on the Advisory Council for Women of Color in the Arts (WOCA), and is an alumna of artEquity's 2020 BIPOC Leadership Circle as well as American Express' 2014 Leadership Academy, the New Strategies Forum at Georgetown's McDonough School of Business and Acumen's Leadership Accelerator program.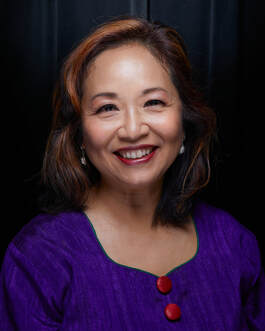 Anne Huang
Executive Director
World Arts West
Dr. Anne Huang is the Executive Director of World Arts West, a regional presenting and arts services organization that supports Northern California artists and dance companies that sustain the world's diverse dance and music traditions, supporting over 450 dance companies, 20,000 artists, representing over 100 cultures. In 2019. Anne was appointed the first person of color, immigrant and cultural artist to lead World Arts West. Under Anne's leadership, World Arts West has undergone a significant equity transformation. For the first time since 1978, World Arts West board and staff are now majority BIPOC and reflect the diversity of its artist community. By centering the voices of cultural artists, Anne works to empower everyone to make and present revolutionary new artworks, and uplift underrepresented voices.
Anne is a highly regarded culturally specific capacity building consultant and resource equity advocate. She has worked extensively with Oakland Asian Cultural Center, CubaCaribe, Diamano Coura West African Dance Company, Alleluia Panis, Charya Burt, Parangal, and many other cultural organizations and artists. As a thought leader with deep knowledge of challenges and solutions for cultural artists in the 21st century, Anne is a sought-after speaker and consultant for conference panels, cultural convenings, and resource equity in philanthropy. Anne has served in leadership roles for National Dance Project's Regional Dance Development Initiative, New York Foundation for the Arts' Immigrant Artist Program, and the City of Oakland's Mayoral Arts Task Force. She is the Board Chair of Dance/USA.
Kaisha Johnson
Founding Director
Women of Color in the Arts
Kaisha S. Johnson is the Founding Director of Women of Color in the Arts (WOCA), a national grassroots network dedicated to creating racial equity in the performing arts. Kaisha co-founded WOCA to provide a platform to give voice and visibility to women of color, to help fortify leadership roles for arts administrators of color, and to reinforce a world where everyone has a seat at the table. Prior to her work with WOCA, Kaisha served as a program director at Center for Traditional Music and Dance for over a decade, organizing in NYC immigrant artist communities working to promote, preserve, and present performance traditions from around the world. With a strong commitment to facilitating culturally equitable programming, Kaisha has served as a consultant providing vision of curation, program development, and community integration. She has consulted with countless organizations including Lincoln Center, The Apollo Theater, and Dance/NYC and has served on numerous grant panels including the NEA, USArtists International, and MAP Fund. Working across the globe, Kaisha also serves as a thought partner providing consultation to organizations to help foster understanding about equity and race and their impact on organizational culture, structure, and systems. A love of community learning has led her to teaching positions at City University of New York and the Center for Bronx Non-Profits.
A long time resident of Harlem, New York, initially Kaisha got her start in her hometown of Houston, Texas as a classically-trained violinist. Ms. Johnson holds a Bachelor's degree in music from the HBCU Hampton University, a Master's in music business administration from NYU and has done post- graduate work in ethnomusicology. Kaisha has over 25 years of experience in the arts and is a proud alumna of the Intercultural Leadership Institute. Ms. Johnson is a staunch advocate for the arts, believing in its innate ability to create social change.
When
December 6, 2022 from 2:00 PM to 3:30 PM
Event Fee(s)
| | |
| --- | --- |
| Webinar Fee | |
| GIA Member | $0.00 |
| Non-member | $35.00 |
Additional Event Details
Event Subtitle
A Revolutionary Imperative
Event Summary

Tuesday, December 6, 2:00pm EST / 11:00am PST [PASSED]

Kellee Edusei, executive director, Dance/USA
Anne Huang, executive director, World Arts West
Kaisha Johnson, founding director, Women of Color in the Arts

Funding Focus Ares